Join our team!

Our team consists of perfectionists and open-minded people. Here, at OTAKOYI, we help companies and enterprises to achieve their goals faster by implementing the latest digital trends and developing complex functionality from scratch. We always look for the best decisions and are able to put our experience to work for you. Radical honesty is one of our key values. We admire inventiveness, flexibility, and critical thinking combined with open-mindedness and the ability to work in a team.

Are you an ambitious developer, an observant tester, a creative designer, or just a motivated guy who wants to become a part of the IT community? That being so, check for our open positions and demonstrate all your skills in web, mobile development, UI/UX design, or IT-related matters. Our team is constantly growing. We need you here!
Do you feel that sometimes you have no words to express your excitement or astonishment? If so, feel free to use the unique Ukrainian word OTAKOYI, which can be interpreted as super-ultra-mega-awesome.
Values
Think over every step.
Our main goal is a high-quality result on each level and stage of work. We follow the established standards and have a shared vision of success.

Make the most of every opportunity.
We provide all means for the learning, professional and personal development of employees. We encourage initiative and don't set limits on new approaches.

Stay involved.
We never stand aside and are always ready to help each other. We share moments of success and failure as we build the company together.

Do your duty.
We cherish our customers' businesses like our own. Each of the team members is used to a feeling of personal commitment concerning his or her part of work on your project.

Be unique & Inspire others.
Individual approach, sincerity, and inspiration are the main touchstones of our work. We are always honest and transparent with the client while looking for the most effective solutions.

Stay positive.
We always display lightness and a positive attitude in communication and conflict resolution. We don't focus on the negative. Instead, we perceive all situations as experiences and draw conclusions.
PERKS
Flexible 40-hour working week
Comfortable office space with permanent access to electricity and a bomb-shelter nearby
Нelp with the relocation to Lviv
Accountant support and tax coverage
Possibility of providing technical equipment and support.
Regular assessment and technical review

Anniversary bonuses
Referral bonuses
IT Club partnership
OTAKOYI benefits package

Internal English courses
Paid vacation and sick leave
Additional leave for personal occasions and for university students or attending external courses
Employee reviews
I have been working at OTAKOYI for 4 years. From the first day, I was pleased to notice such a friendly attitude. Later, I realized that I was in a team of like-minded people that helped me to adapt quickly. Sometimes it was not easy. But every difficult situation is an important experience. I am glad that there is always a team of designers who support and, if necessary, help)
Marta Monchyn
Graphic Designer
OTAKOYI is my first job in IT, and I am glad that I'm here. I like that there is a friendly team as well as flexible and indulgent management. Despite the fact that in 5 years there have been many different situations, the company has always found a solution that suited me. In my opinion, this is a great place for beginners as well as for experienced professionals.
Yaroslav Zhmikhov
UI/UX Designer
I am motivated by people, our team and our clients. I like the projects we are working on. I appreciate being listened to as well as being able to express myself and achieve my goals.
Halyna Davydovych
Project Manager
Let me be straightforward: there were different periods, different projects and clients, but I always knew that I am in the right place. There were hard times, there were even harder times, but it doesn't matter when you love what you do.
Taras Bodnar
Back-end developer
HAVE YOU FOUND YOUR DREAM-JOB?
If there is no position that suits you please send us your CV, and we will look through the list of your talents.
Drop us a line
[email protected]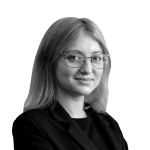 Bohdana Buta
Recruiter
[email protected]