If you ever wondered why companies decide to outsource software development, what are the pros and cons of IT outsourcing, or which pricing and engagement model is the best fit for your project, then this is a must-read for you.
What is IT Outsourcing?
Software outsourcing implies that you fully or partially delegate your software development processes to a third-party company. Your outsourcing partner has in-house specialists who possess the expertise needed for the implementation of your business goals.
Why Companies Choose to Outsource Software Development
1. To Reduce Development Costs
In most cases, companies prefer to outsource software development because it is cheaper. This financial advantage can imply a less severe tax system in the location of outsourcing, slightly or considerably lower labor costs, and so on.
2. To Acquire a Necessary Expertise
Sometimes the technical skills you need for the realization of your project may be unavailable locally, yet there are plenty of experts who possess this expertise in some other country. Outsourcing appears as the perfect solution here. 
3. To Focus In-House Employees on Important Tasks
If you have critically important tasks and want to focus all of your internal resources on it, then you can always delegate some activities of the secondary importance to your outsourcing partner. Thus, you can both buy yourself essential time and ensure that your company runs well at all fronts.
4. To Save Their Time
If you do not want to waste your time on the hiring process of the necessary specialists and further management of the development process, then you have a strong reason why outsourcing IT. Using some of the engagement models, like the Fixed Price model, you can get what you need within the desired timeframe and budget.
Types of IT Outsourcing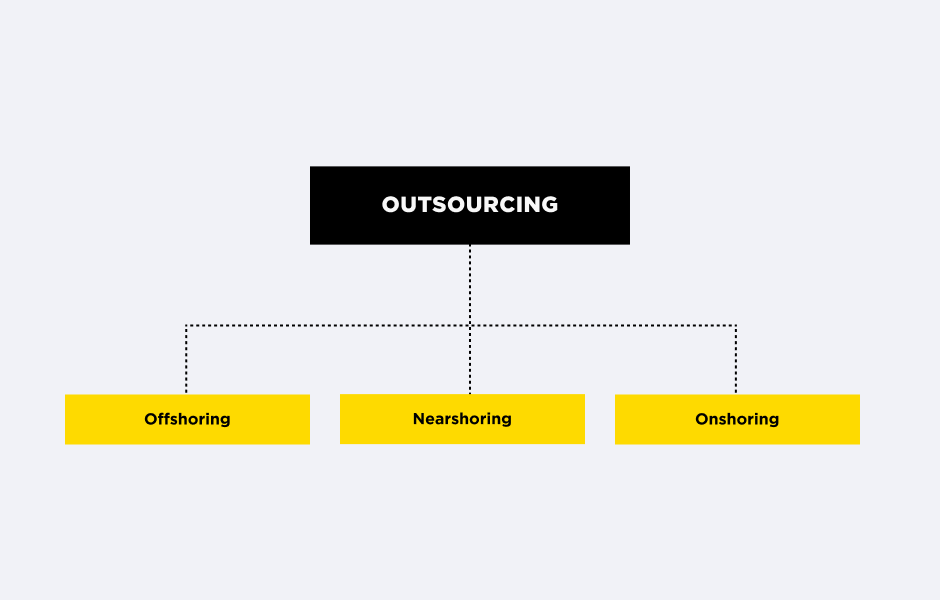 There are several types of outsourcing, each of which suits a specific situation and may serve you a particular purpose. If you want to efficiently outsource your software development and achieve the desired result, you should be more conscious when choosing an outsourcing model. Here are the four types of outsourcing:
1. Offshoring
Offshoring is the most commonly used term for outsourcing, and it is often misinterpreted. Offshore outsourcing implies outsourcing IT-related services to a distant country. This kind of engagement is usually the most beneficial in terms of financial resources. Offshoring countries usually have lower labor costs compared to the location you are based in. What is more, offshoring countries usually have a prosperous IT sector and large talent pools of software developers due to the availability of corresponding demand. 
For instance, imagine there is some company based in the United States that partially outsources its customer support to a company based in Ukraine. The extreme time differences between these countries allow both companies to work during the daytime and simultaneously offer 24 hours of client support. Thus, the client is in a great financial advantage achieved by avoiding expensive night-shifts and using the services of an offshoring company.
2. Nearshoring
Nearshoring means that you outsource your software development to a geographically closer location compared to offshoring. In this case, the labor costs might still be lower, but the time difference is not that sharp. 
Nearshoring is perfect if you need to maintain constant contact with your outsourcing partner and collaborate in real-time while the development proceeds. The Dedicated Team Model would be a great choice for an engagement type.
How it works: It may be a US-based company that outsources to Canada or Mexico. Or it can be a German company that uses the development services of a Ukrainian vendor. In any case, a client and service provider can easily communicate and cooperate during their regular hours.
3. Onshoring
Onshoring implies that you outsource your IT-related operations to a company that residences within your country (to another city, for example). The most common reason why companies use the onshoring approach is their desire to access the talent pool of new specialists in another location while also being comfortable with time-zone and cultural peculiarities. Besides, some regions might have slightly lower payment rates.   
As an example, onshoring occurs when a Berling-based company outsources to Munich, thus growing its influence in the country and beyond and obtaining more human-power capabilities. 
4. Multisourcing
Multisourcing combines the above-mentioned approaches and means that you are using several outsourcing models at the same time. It is usually the choice of large organizations.
For instance, a large US-based company might outsource its customer support to Ukraine and mobile app development to Canada, thus using two forms of outsourcing — offshoring and nearshoring. It may also be vice versa since it depends on your priorities and business objectives.
Pros and Cons of Software Development Outsourcing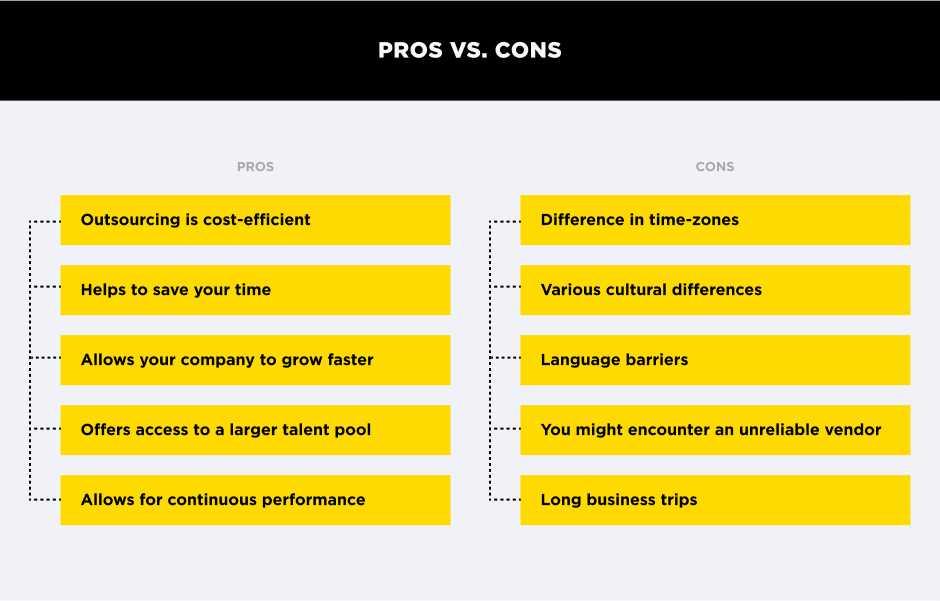 Obviously, outsourcing of the software development operations has both advantages and disadvantages. If you want to effectively use these services, you must know both of them well to be able to maximize the benefits of IT outsourcing and avoid or minimize its negative aspects.
Advantages of Outsourcing
1. Cost-efficiency
The chief advantage of outsourcing is its cost-efficiency. In fact, you don't trade quality for the price. Instead, you can expect the same quality of a product at a far lower price than it would be if you hire local IT specialists. It is due to the considerably lower cost of living and hence lower salaries in the outsourcing countries.
2. Time Saving
When you choose to outsource, you get rid of all this recruitment and training fuss since it is the task of your service provider. This helps to save a substantial amount of time that you can later devote to other important activities.
3. Fast Growth
If you have a reliable outsourcing partner or even a few of them, you can easily entrust them with some of your projects while also working on other important tasks by yourself. In this manner, your company can grow exceptionally fast and efficient.
By outsourcing and hiring online workers, you can increase your income while also increasing your time.
4. Large Talent Pool
If there is a shortage of specialists in your country/city who possess the necessary expertise, then you can find them elsewhere. Ukraine is home to over 200,000 IT experts, and this number is growing, so you will definitely find what you need here.
5. Constant Performance 
As it was mentioned above, time-zone differences between you and the vendor can sometimes appear as an advantage and used to cover gaps in the schedule and maintain the uninterrupted performance of your company during day and night.
Disadvantages of Outsourcing
1. Different Time-Zones
The difference in time-zones between you and your service provider might either be beneficial for you or cause undesirable problems. Drastic differences in time will more likely lead to ineffective communication and delays unless efficient measures are taken.
2. Cultural Differences
Never forget about the cultural aspect if you decide to outsource in a distant location where there is a strong religious/cultural influence. Sometimes what is normal for you may be not OK for others, and it is fine. Just keep in mind that culture is a real thing and you have to give it some credit.
3. Language Barrier
Efficient collaboration can occur only if both parties have one common language and can freely communicate in it. In fact, around 80% of Ukrainian developers can speak English well. Obviously, many have a specific Slavic accent, but why should you be bothered about that, right?
4. Unreliable Vendor
You might get an unpleasant experience if you encounter a bad service provider who is not attentive to your project requirements. To avoid IT outsourcing risks, always try to carefully read the company's testimonials on trustworthy platforms like Clutch or GoodFirms before choosing its services.
5. Geographical Distance
Business trips to the company's location of your outsourcing partner might be a true challenge of mind and body, especially for the soft part of your lower back. Not to mention that flight tickets are not that cheap.
Outsourcing Pricing Models
The most popular and commonly-used outsourcing pricing models are Time and Materials and Fixed Price. Both of them work quite well if used in the corresponding project environment.
Time and Materials
With Time and Materials (T&M) pricing model you pay for the hours of developers' work. More specifically, you pay for the time needed to finish a particular task. The required time is agreed before the work starts. In this manner, you are sure that the employees are actually working during this period since they have to show you the result on time. 
Companies usually go for the T&M model when the scope of work, end-budget, and deadline are not precisely determined. You can begin with developing a core part of your product and then decide what will be the next few steps. This model allows for risk-free experimenting and improving or changing any aspect of your project while the development goes.
The T&M pricing model offers maximum flexibility that is so essential when working on complex, long-term projects. You can easily manage the workflow between the development stages to finally come up with the best product that fits the ever-changing IT market.
Fixed Price
The Fixed Price model implies that there is a strictly fixed budget, scope, and, in most cases, a fixed deadline for the project. This pricing model fits great when you have a short-term project or a decent technical specification. When going for Fixed Price you must be sure that the scope will remain the same as the one you agreed on with the service provider. In this manner, if a new discovery has shown that your product requires additional functionality and there is a need to introduce some changes, then the vendor will treat it as a Change Request and will bill you accordingly.
The Fixed Price model is a good way to quickly carry out a small project without dedicating much of your own time into it since most of the processes are managed by the vendor. However, it allows almost no flexibility, meaning that any changes can harm your plan.
Outsourcing Engagement Models
Just like the pricing models, there are several outsourcing engagement models. The favorites among them are staff augmentation, hiring a dedicated team, or outsourcing the whole project.
Staff Augmentation
Staff augmentation engagement model is used when you have certain skill gaps among your in-house employees but do not want to hire new specialists on a regular basis. For instance, imagine that you decide to launch a new small project and you have everything for the successful implementation except the guy who knows Flutter well. You need a talented IT specialist only for that particular project and you won't need him anymore after this. That is when the staff augmentation engagement model comes handy. Be it a short-term project or a long one, you can hire the necessary number of remote employees with various skill sets using the services of your outsourcing partner.
Dedicated Development Team
The Dedicated Team model implies that you hire a whole team that usually consists of all kinds of IT experts needed for the project implementation, including PMs, designers, QA engineers, and developers. This team is fully dedicated to you and your project or projects and devotes 100% of their work time to its implementation. You can treat the dedicated team just like your own employees, meaning that you can manage them and coordinate their actions as long as the agreement is still in effect. 
Outsourcing of a Project
Works as simple as it sounds — project outsourcing implies that you fully delegate the development of your product to your outsourcing partner. In this case, there has to be a decent project plan from the very beginning that represents all of your requirements. Together you agree on time frames and budget, after which the development starts.
This engagement model is usually used to outsource projects of secondary importance.
Choose the Right Outsourcing Partner
OTAKOYI offers its outsourcing services for more than 9 years now and we have proven to be a reliable partner to your clients, which you can check by yourself on your Clutch page. We always strive to provide all possible conditions so that you can feel like your project is in good hands when you opt for our services.
If you want to start working with us or need a consultation, feel free to contact us and say hello.