How to Develop Property Management Software: Ultimate Guide
In the property management business, there is no shortage of tasks that can benefit from automation, from rent collection and maintenance requests to room booking and check-in processes. Whether you own a property, run a hotel, rent a long-term accommodation, or building manager software for property management can make your life 10 times easier and more efficient. 
A recent  IBISWorld report states that USA's current property management sector includes over 290,000 businesses. Additionally, Fortune Business Insights forecasted that the global real estate management market will grow from $19.33 billion in 2022 to an impressive $37.25 billion by 2029. 
Such numbers tell you to invest in PMS solutions to elevate and optimize your real estate business. So. let's dive in and explore the types and benefits of property management software, a must-have feature you should consider implementing, and key steps of the development process. Read on to find out how to leave your competitors in the dust with innovative PMS tools!
What is Property Management System (PMS): Explained
PMS, or property management system, is a software tool used by real estate businesses to automate time-consuming corporate and administrative tasks. The goal of property management software development is to reduce manual labor to a minimum, improve communication within the company or between management and clients/tenants, and eliminate human errors. 
PMS solutions are used across the industry, including: 
Hospitality establishments; 
Residential and private houses; 
Commercial real estate. 
The property management market generates custom software that can benefit each party involved in the real estate and hospitality business, from tenants and travelers to hotel administration or property owners. 
Ready to create your own project?
Contact us to receive further details about our approaches
Drop a message here
Main Property Management System Types
Let's establish, "What are the types of property management systems?" And how to choose the right approach to PMS software development?
There are two directions you can take when creating the PMS software for your business: Custom development and ready-to-build SaaS solutions. What's the difference?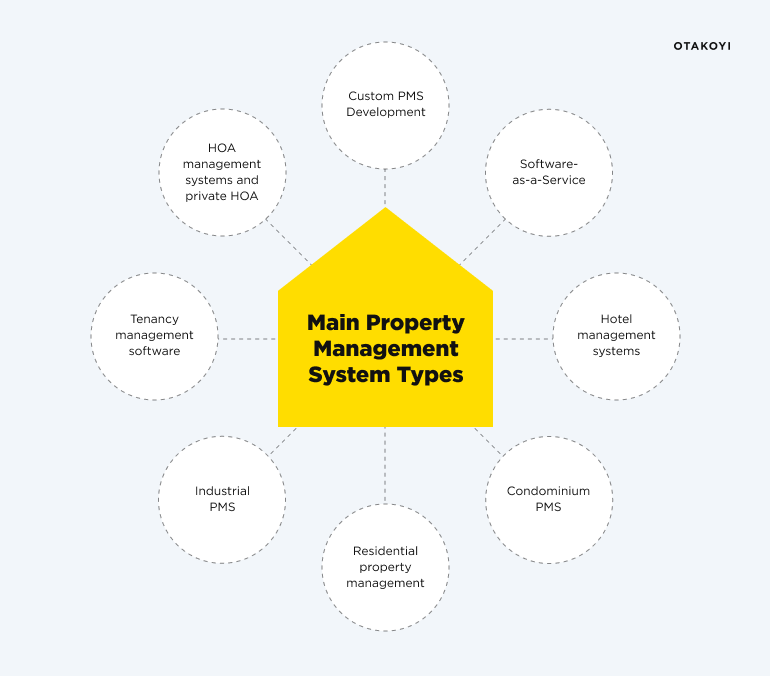 Custom PMS Development
A custom property management system is tailored to your business needs ad requirements solution. Custom software development can be more time- and cost-consuming. However, it offers more independence and flexibility in terms of features and functionality. If you have a unique concept idea or a real estate business or need a top-tier tool to optimize the company you already have, consider investing in customized solutions, like rental properties software or tenancy management tool. 
You can see customized solutions may transform your real estate business in the following article 'How do Proptech real estate solutions transform the industry? '
Software-as-a-Service 
SaaS, or Software as a Service, provides subscription-based pre-build software solutions. This direction is perfect for start-ups or businesses with a limited budget. Even with the limited functionality, SaaS solutions offer powerful property management systems. 
Whatever approach you choose for the development, first, you need to understand the specifics of different PMS types. 
Hotel management systems
A lot of successful hospitality establishments have already introduced hotel management systems in the workflow. This type of software helps hotels and hostels of any scale to manage their daily operations, such as room reservations, housekeeping schedules, guest check-in and check-out process, and even marketing on various booking platforms and channels. HMS takes the workload from the front-desk staff and higher management, reducing human errors and miscommunication. Hostel and Hotel management systems can improve guest experience, optimize business processes, and increase revenue with cutting-edge features like online booking, inventory management, guest communication tools, and more. 
Condominium property management for commercial sites 
If you need a top-notch solution for managing commercial property, like an office building or retail location, then this PMS software is the right choice for you. Condominium PMS helps a property manager to streamline administrative tasks, including:
Rent collection; 
Maintenance scheduling; 
Communication with tenants; 
Online reporting; 
Real-time occupancy tracking;
Lease contract management. 
This software is an excellent tool if you need to optimize communication between tenants and building management and digitalize time-consuming corporate tasks. 
Residential property management
Landlords software is a tool adopted by various residential properties, such as houses, apartments, and multi-unit buildings. Similar to commercial systems, residential rental properties software allows landlords and homeowners to manage multiple leases, collect rent, schedule maintenance work, and update tenants on new policies or guidelines. 
Industrial property management solutions 
There is a growing demand for PMS solutions for industrial properties like warehouses and factories. Industrial property management systems feature equipment tracking, inventory management, preventive maintenance scheduling, and more to help managers keep the facilities running smoothly. 
Tenancy management software 
This solution helps property owners and managers keep track of their tenancy contracts, including renewals, expirations, and rent adjustments. Most tenancy management software offers robust functionality to help users with tenant screening, lease tracking, and automated rent collection. This solution is perfect for automating communication with tenants to avoid misunderstanding from both sides. 
HOA management systems and private HOA
Such real estate management software is a tool for owners of condominiums, townhouses, single-home developments, and co-ops. It assists HOA managers with amenity bookings, communication with residents, accounting automation, and electronic payments. With a financial reporting feature, HOA management systems provide valuable insights into the property's financial state. 
Benefits of Creating Property Management Software 
Let's take a look at why you should invest your resources to create the best software for property management. Here is the list of the core benefits you gain by implementing PMS in your business model.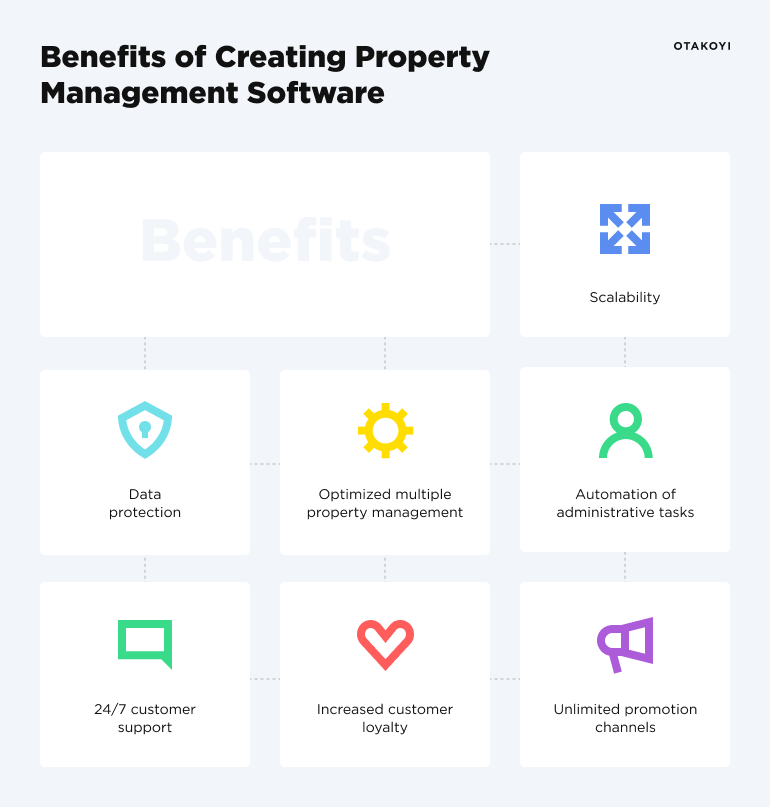 Scalability 
Custome real estate app and property management solutions offer incredible scalability, meaning they can grow with your company. As you acquire more properties or go to the global market, you can add new units to the system to optimize business processes without worrying about outgrowing your software. 
Data protection
Hospitality, commercial and residential establishments all have to deal with sensitive data, like credit card information, leases, insurance contracts, and more. PMS solutions ensure that all your confidential data is stored safely and accessible only to authorizes personnel. 
Optimized multiple property management
Multiple property management is the main reason property and hospitality owners choose to implement PMS solutions. With digital tools, you can streamline all your operations, access reporting, and accounting, and keep track of several properties simultaneously. 
Automation of administrative tasks 
Do you want to know the secret to a successful business? Automating repetitive, time-consuming tasks to give your team more resources to focus on high-priority assignments reduce manual work and errors. 
24/7 customer support 
Hospitality and real estate businesses need to be in touch with clients and tenants 24/7. With chatbot integration or virtual assistance, you can provide customer support and build trustworthy relations with your clientele. 
Increased customer loyalty 
PMS is the solution you need to foster customer loyalty and increase retention rates. Real estate apps create personalized experiences through availability, individuality-based marketing, and notifications. After all, adopting innovative PMS shows your dedication to introducing technological solutions and investing more in business-client relations. 
Unlimited promotion channels 
Property management systems provide tools that can help you reach tenants and clients through unlimited communication channels. With PMS, you can elevate your market strategy and marketing efforts and forget about choosing only one promoting platform, like Airbnb or Booking. PMS software ensures you can always have the upper hand on your occupancy rates and reach clients faster than your competitors.
Must-have features to implement in the cutting-edge PMS
Before you jump to property management software development, we recommend learning what makes PMS a powerful tool for your business. Different types of property management systems will require a unique set of features. For example, you can skip housekeeping scheduling tools if you need a tenant management solution. However, we narrowed it down to 10 must-have features that will elevate any PMS software and empower your real estate business for success.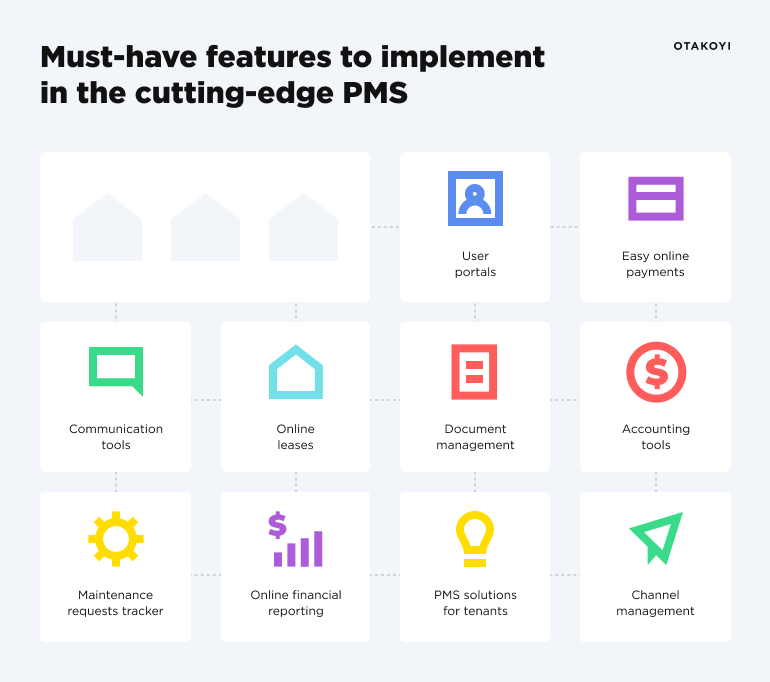 User portals 
Optimized portals are essential for users' navigation in the app or platform. The property management system provides access to multiple parties. Therefore, you need to create various user portals with different functions: 
Owner portals should have access to the property, view documents and financial statements, and ability to generate reports.

The tenants' portal dashboard should include a rent payment option, updates on the lease status, a form for maintenance requests, and a communication field with building representatives. 

Applicant portals provide easy tools for those who are in search of housing to submit a rental contract or apply for a vacant unit. 
Easy online payments 
Digitizing rent collection is the best thing you can do for your real estate business. In-app online payment tool saves management and tenants from a headache each month and reduces the need for paper checks. By offering rent and fee payment via credit card or direct transfer, you provide easy solutions for on-time transfers. We also suggest implementing email reminders and notifications to keep the renters on track. 
Communication tools 
Clear and on-time communication is critical to effective property management. Therefore, having communication tools is a must-have feature for your platform to be able to update renters on the new policies and maintenance works and send responses to tenants. Through PMS, you can contact individuals or send reminders in bulk. 
Online leases 
The days of signing a paper lease before moving in are long gone. With integrated lease features in the online property management system, tenants can easily sign a lease from their devices, saving time and hassle for themselves and property managers. Moreover, building representatives can do online screening, create multiple templates, and track moving in and out processes. 
Document management 
By storing all the documentation like cash flow statements and balance sheets, you can go paper-free and reduce the cost of office maintenance. Document management features help your team stay organized and gain fast access to any urgent files. 
Accounting tools 
Including robust accounting, the feature can transform your business operations, allowing your team to track current budget and operational costs, generate financial reports, and take care of bank reconciliations. 
Maintenance requests tracker 
Neglecting property issues and malfunctions can cause massive damage to the unit or the whole building. Mitigating and reacting fast to any occurring incidents is the direct responsibility of property managers. By introducing a maintenance request tracker, your team can provide urgent support to the tenants, reacting to submitted online complaints.
Online financial reporting 
With online reporting, property managers can make data-driven decisions and keep a pulse on the property's state and availability. Effective PMS software will offer customizable financial reports and analytics. 
PMS solutions for tenants 
Modern property management systems should include a web portal or a mobile app for tenants. Creating a mobile-friendly solution should be your top priority if you want to improve communication in your commercial or residential building, keep your renters informed on the updated policies, and notify tenants about upcoming payments. 
Channel management 
With a channel manager feature, you can track and manage your listings from a single dashboard, even when you post properties on several housing-hunting platforms. It's a must-have tool if your business uses more than two channels for promotion. With channel manager and multi-calender features, you can avoid double-booking, track occupancy, and offer discounts to promote your listings.
Property Management System: Building Process
Now you have in-depth knowledge about different types of PMS and how they work. So, let's shine some light on property management software development to get you ready for what comes next!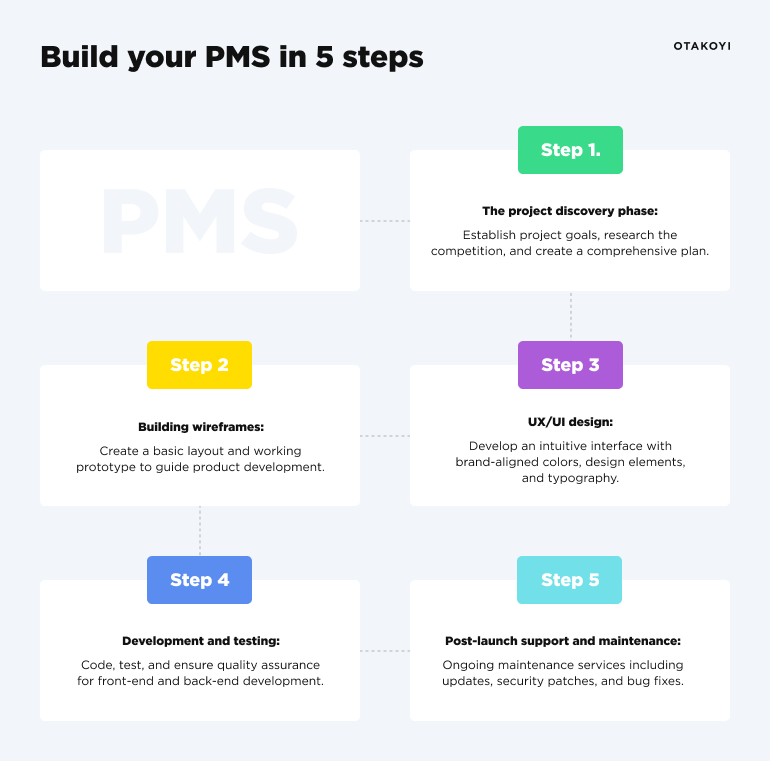 Step 1. The project discovery phase 
The first stage is when the development team comes together to create the concept for the future product, verify your needs and requests, establish project goals and strategy, settle on the functionality set, and research the competition. We don't recommend rushing a project discovery phase. Better your time to develop a plan, test the concept, and consult with the experts. 
Step 2. Building wireframes 
Wireframing is an essential part of the development process. The second step includes creating a basic plan layout and developing a working prototype, guiding developers and designers during further product building. Wireframes help define the user experience and interface design and validate the product concept. 
Step 3. UX/UI design 
The third step involves creating an appealing and intuitive user interface, including brand-aligned colors, design elements, and typography. PMS should have outstanding UX to elevate the customer experience for all parties using the product. 
Step 4. Development and testing
This is where all the magic happens, and your idea comes to life. At this stage, developers work on front-end and back-end development, including coding, testing, and quality assurance. Neglecting QA testing is a crucial mistake that can cost you a lot of money and a reputation in the future. 
Step 5. Post-launch support and maintenance 
The development process doesn't stop after the launch. Once the product is released, your partner team will provide ongoing support and maintenance services, including updates, security patches, bug fixes, and more. 
Final thoughts 
Investing in property management software is the smartest move you can o to help your business grow in 2023. PMS solutions increase efficiency, automate administrative tasks, and provide a better experience for tenants, hospitality clients, and building management teams. You can empower your business with a tailored custom system for your unique needs and goals by partnering up with a reliable software development vendor. Don't miss out on the countless benefits of PMS implementations - contact the Otakoyi team to take the first step toward effective property management.