How to Develop a Hospital Management System: Guide to optimizing your ecosystem
Technology has been reshaping the healthcare system for years by offering efficient and smart solutions to simplify medical facility management, monitor personal health, or build better communication between patients and physicians. However, finding software solutions to optimize your specific ecosystem is challenging. Read on to learn how to develop a hospital management system that meets your business requirements and powers up your medical business for growth.
Hospital management system (HMS) Explained
The chance is each of us came across hospital management software at least once in the past year, whether by booking doctor's appointments online or registering for a walk-in visit at the reception. An HMS is a mix of cloud, web portal, mobile, or desktop applications working together as a seamless system. The HMS goal is to provide tools to automate aspects of managing healthcare facilities and elevate the quality of medical service.
In general, HMS aims to assist medical staff with the management information system in a hospital. Components of the HMS software can vary from one clinic to another and include different features depending on the issues the establishment faces, from an online patients management system and electronic records to inventory supply setup and insurance services integrations. 
Hospital management system software types
The type of clinic management system software depends on the functionality set you require to solve internal issues. Based on the essential features, there are four types of HMS: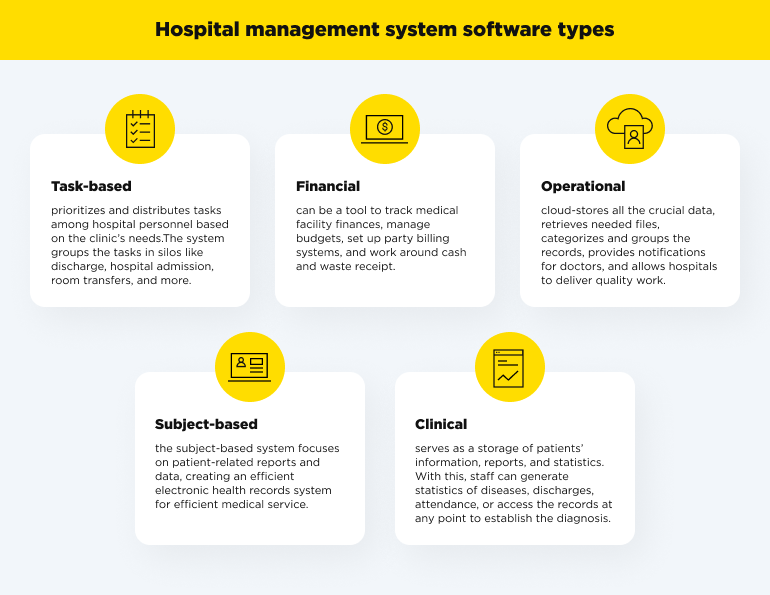 Task-based HMS Software 
The task-centric hospital management system prioritizes and distributes tasks among hospital personnel based on the clinic's needs. The system groups the tasks in silos like discharge, hospital admission, room transfers, and more. 
Financial HMS 
Hospital management system software can be a tool to track medical facility finances, manage budgets, set up party billing systems, and work around cash and waste receipt. 
Operational HMS Software 
Those systems are data-focused and help physicians and medical staff to manage all the health records. It cloud-stores all the crucial data for the healthcare facility, retrieves needed files, categorizes and groups the records, provides notifications for doctors, and allows hospitals to deliver quality work. 
Clinical HMS
Clinic management software serves as a storage of patients' information, reports, and statistics. Using such systems, hospital staff can generate statistics of diseases, discharges, attendance, and more or access the records at any point to establish the diagnosis. 
Subject-based HMS 
The subject-based system focuses on patient-related reports and data, creating an efficient electronic health records system for efficient medical service. 
How you can benefit from Hosptial Management System 
A custom hospital management system influences medical specialists' work and productivity, simplifies clinic services for patients, and optimizes the business of medical facilities as an organization. The Market Research Future revealed that the USA has the highest demand for user-friendly clinical management systems, about 60%. Therefore, let's take a look at the impressive benefits of hospital management software products: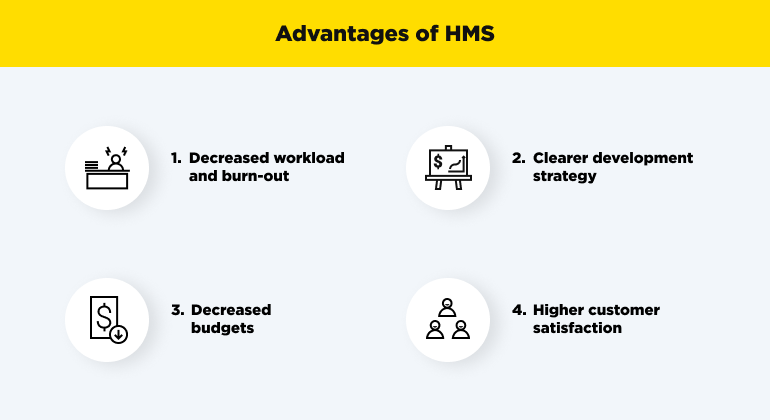 The cloud-based clinical management boosts data accessibility, as practicians can retrieve patients' medical records in a couple of clicks, research health history, provide accurate diagnoses, and create statistical reports. The digital visualization of patients' data improved diagnosis accuracy by 55%. 

Digital hospital management solution reduces human error risks by automating crucial internal processes, like scheduling appointments, managing hospital capacity and workload, storing records, checking the inventory supply, and more. 

With medical facility automation, there is no need to waste resources on time-consuming administrative tasks. 

Flexible and scalable HMS products suit small-, middle-, and large-sized hospitals and practicians' offices, as software can provide solutions for healthcare facilities of any size and grow with the clinic.

Compliance and data security are essential for medical offices as they manage patients' personal health and financial information. HMS products use top-notch technology to guarantee data integrity and protect hospital servers from data breaches, hacker attacks, other cyber threats, or insurance frauds. 

Custom HMS software improves customer experiences by making medical services digitally accessible with online appointment booking, reminders for necessary visits or medication refills, treatment monitoring, online consultations with practitioners, and much more.

Clinic management software boosts doctors' and medical staff's productivity by letting their minds off administrative tasks and providing tools for improving patients' treatments, monitoring their well-being, and more. 

Multi-module HMS system is a cost-effective tool as it simplifies many work processes and automizes manual tasks like billing patients, submitting insurance claims, or generating reports for hospital staff. Therefore, medical facilities can save on extra stuff and protect their employees from overworking. 
Ready to build a Healthcare product?
Contact our team and receive an individual approach plan for your future project
Contact us
Core features to include in HMS for full optimization
The question entrepreneurs or stakeholders have, is how to develop a hospital management system that will simplify work cycles and optimize medical services. The answer to it is simple. For your innovation to strike, the HMS should have the following features: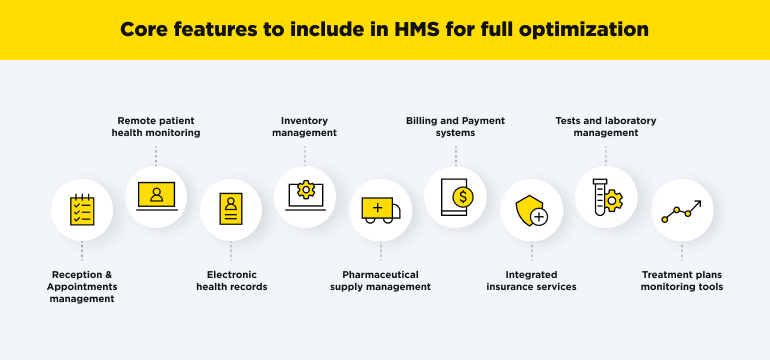 Reception & Appointments management 
The medical scheduling software allows the generation of time slots for each medical worker, depending on the duration of their services, and shows availability for various doctors or specific medical equipment. The software automatically can send reminders to users or cancellation notifications to the physician or in-line visitors. Hospitals can ensure that online bookings run smoothly by giving reception access to appointment management. 
Remote patient health monitoring
Online patients' management system allows the monitoring of patient well-being remotely. By syncing the software with a health-tracking wearable device, doctors can gather basic data or medication intake without having direct access to patients. That optimizes staff efficiency and increases chances of spotting the difference in health faster than regular in-person check-ups. 
Electronic health records 
Hospital CRMs are widely used to keep electronic health records. EHR systems gather and store all the personal details about patients relevant to medical specialists, like private data, insurance, and financial information, family medical records, specific reactions to treatments or medications, and lab results. The EHR feature allows each doctor to be up-to-date with patients' conditions and previously received medical care. Integrations with third-party laboratories or medical facilities help to keep a full picture of patients' health records by accessing additional data or treatment history and more. 
Inventory management
As part of the management information system in a hospital, it's crucial to track materials usage and calculate goods in the warehouse to avoid shortages. Healthcare facilities can automize those processes,  keeping the clinics well-stocked with inventory management.  
Pharmaceutical supply management 
The E-prescription feature of the hospital software combines drug inventory management with patients' medication plan to enhance control over pharmaceutical supply and refill.  
Billing and Payment systems 
Hospital management system software aims to make the payment process more transparent and clear for patients. With an essential feature, visitors can calculate the price of the services while scheduling an appointment. The system can track patients' debts and previous financial operations in the hospital, marking those who await the bill. With the payment&billing feature, it will be easy for the reception staff to print out statements and lists of provided services on patients' demand. 
Integrated insurance services 
As people use various insurance providers, it's crucial to have a third-party integration to access the latest information or contact the company if needed. The insurance module stores all relevant data, like policy numbers, company names, contacts, and information about healthcare service policies.
Tests and laboratory management 
The healthcare facility needs secure easy-accessible storage of the laboratory analysis reports to have a profound picture of the patients' states. The lab&tests module gathers and categorizes all the health tests and provides access to the authorized user only. 
Treatment plans monitoring tools 
The treatment plan management feature advises physicians on how to treat and examine patients according to the international classification of diseases or customized methodology. With internal knowledge databases, the software can predict the treatment outcome and assist doctors in getting control of the plan and care process. 
Process of Hospital Management System development
How to develop a hospital management system with reliable and robust performance? By following six necessary steps to delivering a highly scalable and responsive product.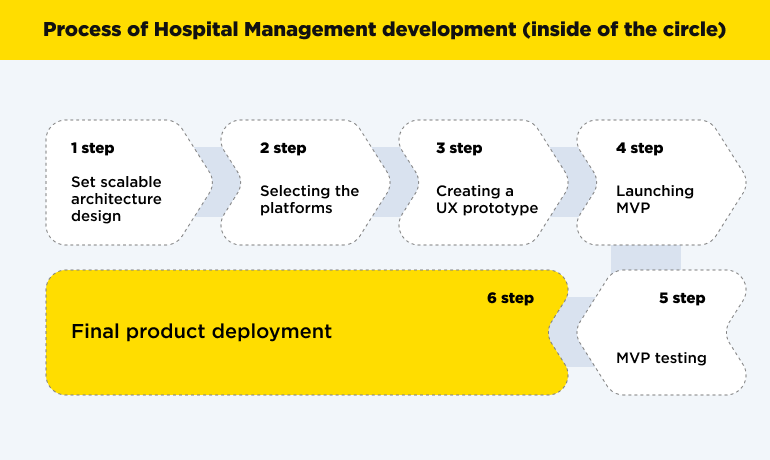 Step 1: Scalable architecture design
HMS web applications or supportive mobile app development require a multi-service approach and implementation of microservice architecture to synchronize all the components with the central server system. That way, you can flawlessly unite multiple aspects and features for healthcare business optimization to increase user and customer satisfaction. 
Step 2: Selecting the platforms 
With comprehensive research, you can determine which platforms your target audience prefers to boost the outreach of your product. In most cases, stakeholders and entrepreneurs use multiple deployment platforms to raise product accessibility and introduce separate applications for medical staff and employees. 
Step 3: Creating a prototype
In general, HMS products require complex and multi-level development. However, with accessible modern technologies, you can create several prototypes to test the functionality and efficiency of each module. HMS software supports the work cycles and structure of medical facilities, seamlessly simplifying physicians' daily life. Therefore, one cannot compromise UX design in order to cut the development cost, as each module, integration, and feature has to be polished. Yet, the hospitals have no use of stylish visuals. Therefore, it's crucial to keep the UI design simple and intuitive to assist medical staff on their job without destructive elements. 
Step 4: Launching MVP 
A minimum viable product is a solution to gather feedback from real-life users and hospital staff to improve user experience, test core features, and validate the concept. In practice, HMS software requires several MVP projects to implement essential features one by one and build complicated yet optimized and flawless systems for a medical facility. 
Step 5: Testing 
The necessary step for guaranteeing hospital management software's robust performance is code and QA testing. To deliver an optimized and flawless HMS system, the professional team performs several QA analyses to check the user experience and functionality performance of each module, integration, and application. Combining those indicators with MVP project results allows developers to polish up the final product and set it ready for release. 
Step 6: Final product deployment 
You have to deploy the HMS software on selected platforms as the development process is successfully finished. The deployment process is a headache for healthcare providers. Therefore, a software development company deals with all release-related aspects, like stress-testing each separate component. 
Cost of building Hospital Management System from scratch
The final price for hospital management system software depends on the following factors: 
Number of required modules;
System complexity; 
Development time;
The need to use business analytic services before production;
Deployment platform for HMS product;
Rates of the partnering development company. 
As each project varies in size, business needs, and complexity, it's hard to provide an accurate estimate. However, on average, custom hospital management software costs around $500,000, and the initial MVP - is $200,000. If such prices are beyond your budget, you can outsource the development service to Central or Eastern European companies. With outsourcing, you can reach the same high-quality results and get access to cutting-edge technology and new approaches to HMS solutions.