Revolutionary Influence Of Proptech Solutions On The Real Estate Industry
Is Proptech just another buzzword bound to be forgotten, or has it the potential to transform the real estate sector to accommodate a new technology-centric reality? Read on to discover the impact Proptech real estate solutions have on the industry, who benefits from such digital transformation, and what the latest niche trends everyone should look out for are!
Why is Proptech a hot topic?
So, what is Proptech? The term decoding is simple - technology for the real estate industry. It refers to tech companies providing Proptech solutions aimed at helping real estate professionals, customers, investors, and more. As with any other market in 2022, real estate is already under the influence of digitalization, meaning home rental places or sharing economy.  
Why is Proptech a hot topic in the tech community and more? In the fast-changing digital environment, it's crucial to keep up with tech trends that target the automatization of business processes and accessibility of the industry as a whole. We have witnessed one app like Uber revolutionizes the whole taxi services market. Property Tech innovations have the same potential, whether its solutions for a global scene or only for one particular agency.
How is adopting Proptech solutions changing the real estate industry?
Technology never works one way. Three main user groups benefit from Proptech real estate digital capability solutions: tenants&landlords, realtors, and investors. 
The Proptech market offers technology to simplify life and everyday communication between landlords and tenants: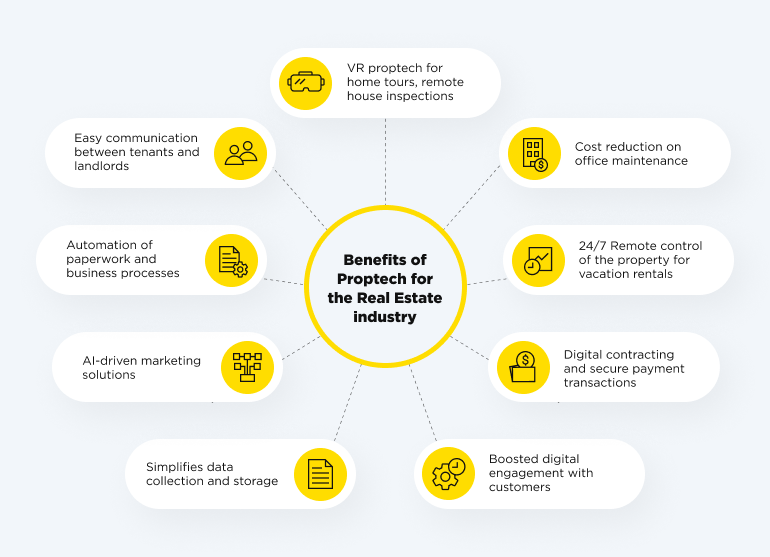 It could be a channel to build transparent communication and keep tenants in the loop of any maintenance work updates, scheduling technician appointments, or informing about facility events. 

VR Proptech solutions allow remote house inspections or home tours, breaking geographical borders. 

The landlords can be 24/7 in touch with the property, which is an advantage for vacation rentals with less trustworthy tenants. Proptech offers insights into how tenants utilized the space without a need to stop by and check personally. 
Is Proptech good for real estate agents? Absolutely. Realtors and agencies can take advantage of the technology to gain a competitive edge over competitors and elevate the customer service they provide. What benefits do real estate agents earn with Proptech:
Automation of paperwork and some business processes;
Cost reduction on office maintenance; 
Digital contracting and secure payment transactions;
AI-driven marketing solutions;
Simplifies data collection and storage;
Reduced physical contact;
Boosted digital engagement and innovative marketing solutions.
What's in it for real estate investors?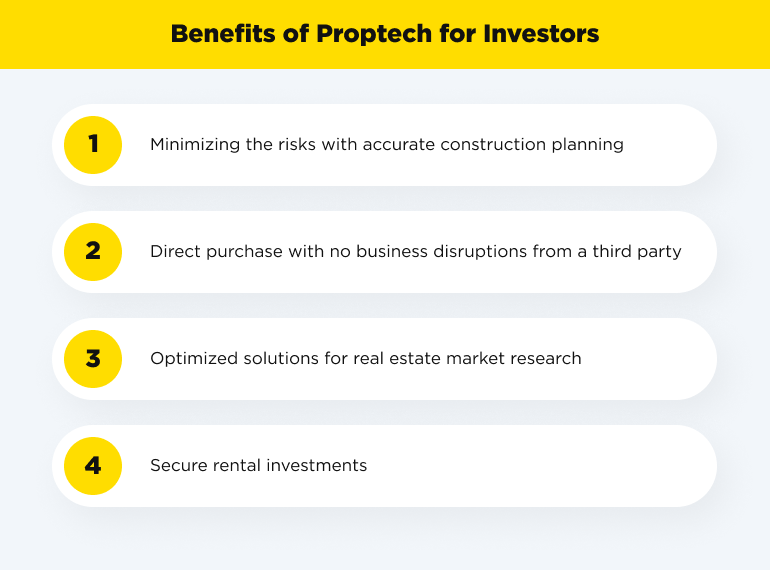 Minimizing the risks with accurate construction planning; 
Direct purchase with no business disruptions from a third party;
Optimized solutions for real estate market research; 
Secure rental investments. 
Examples of applying Proptech real estate technologies 
Proptech developers focus on introducing solutions that will transform the old traditional process and business strategies. Learn how Proptech trends in the residential real estate and commercial property sector help revolutionize the industry. 
Smart home devices
Everyone heard about Alexa, a Bluetooth house assistant device. That's a creation of a PropTech. Smart appliances and smart homes are a new wave in household management, making our daily routine much simple and more automated. Each day Proptech developers find new ways to amaze property owners with products for an apartment or house transformation.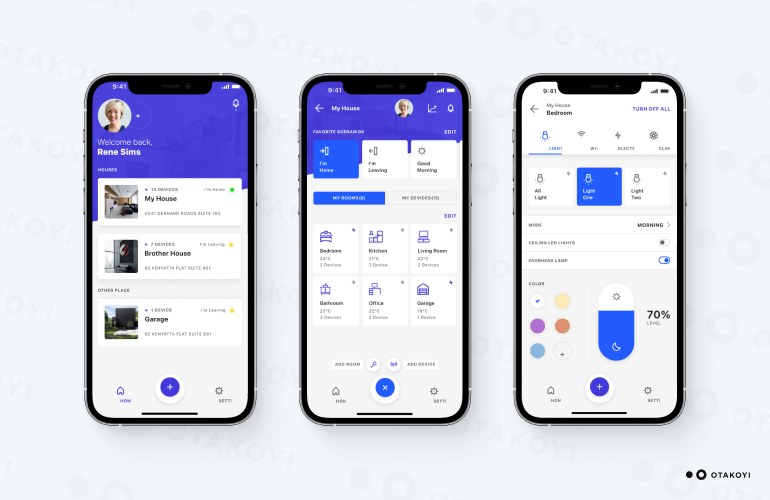 See the example of the Smart Home App Desing Concept  made by OTAKOYI.
Property management tools for smart buildings
The smart building is the future of Proptech. However, we already see those technology implemented in new-gen constructions. BMS ( building management system) offers facility managers control of electrical systems in the rental property or commercial office building. Property technology completely automized lighting, ventilation, heating, and security, ensuring simplified facility maintenance.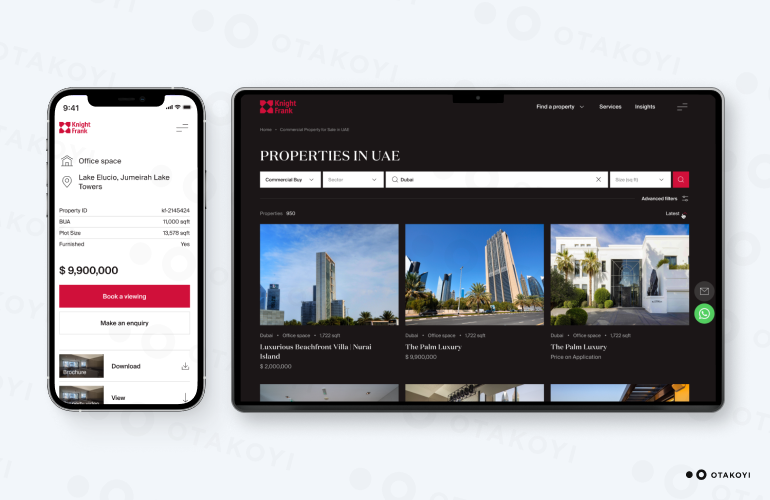 See the example of the Property Management System Desing Concept made by OTAKOYI.
Coworking spaces search
The coworking niche of commercial real estate may come as a surprise for many. Yet, with the pandemic, more people have switched to remote working and value having a space to rent for office meetings, seminars, or just quit place to work on a project. Therefore, Space-as-a-service systems are now a new trend, allowing to search for shared coworking locations in the area.
Travel Booking systems
Everybody heard of Booking.com, a travel agency for lodging reservations and other travel products, and at least once booked a hotel or apartment via this service without even thinking of how huge and complex it is. Statista states that the global revenue of Booking Holdings has increased by approximately 61 percent in 2021, after dropping sharply in 2020 due to COVID-19. That year, the company's revenue amounted to 10.96 billion U.S. dollars, rising by over four billion U.S. dollars from 2020 but remaining below pre-pandemic levels. Overall, the net income of Booking Holdings worldwide totaled 1.17 billion U.S. dollars in 2021. 
The system became the leader in Travel, Tourism & Hospitality domain, however, there still are some travel booking services, that stand out from the common list.
One of such systems is Owayy - a service for booking cabins, yurts, and other cozy places for sustainable tourism in the wild of Scandinavian countries. Owayy is a niche-oriented business. It focuses on Glamping, which is sustainable tourism. Its clients are those people who seek adventure and appreciate the comfort of a cabin or cottage. With Owayy, people who want to behold the Northern Lights may find a way to do it, balancing between the comfort of warm authentic housing and the proximity of nature.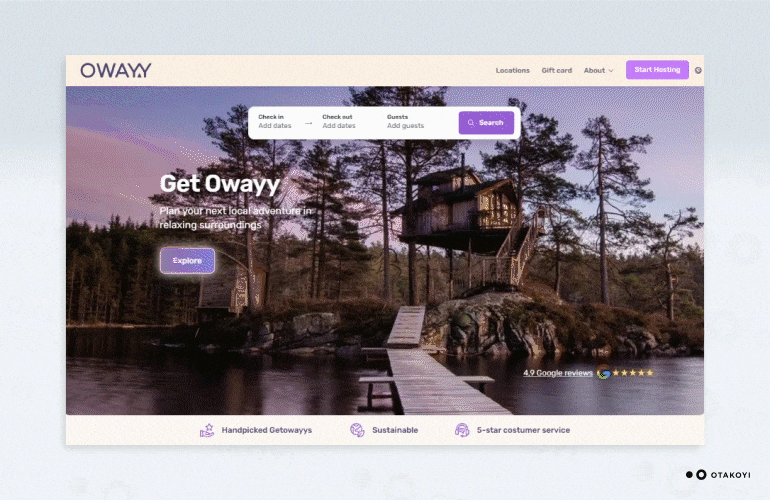 Follow the link to see  a full case study of the Booking Platform  developed by OTAKOYI.
Ready to build a Real Estate platform?
Contact our team and receive a free tech consultation for your project
contact us
Top 4 trending technologies in Proptech
The property technology company uses ahead-of-the-curve technology to deliver out-of-this-box products with mind-blowing functionality and features. Lets' see the latest Proptech real estate trends!
Alternative payments
The WorldPay data research shows that in 2020 North-American e-commerce spending by credit card dropped by 7%, making the Buy-now-pay-later (BNPL) solutions a new player on the market. By giving users alternative payment methods like cryptocurrency or pay-with-points options, Proptech Software can elevate your business, providing agencies and companies an advantage over competitors. Consult with the experts to see if the alternative app payments suit your business needs.
Blockchain
Remember the old times when you had to go to the bank to wire a transfer or pick up a check to close real estate transactions? Blockchain technology made it an ancient history. With implemented blockchain tech in the app or web platform, you can complete real estate deals in a matter of seconds from any geographical area. Such technology benefits anyone who sells, rent, or buys property by making the process more efficient and accessible.
VR
The global pandemic has made an undeniable impact on the real estate market and digitalized many house-hunting processes. Now, while shopping for residential properties, it's not necessary to visit the places in real life. VR technology boosted accessibility of the housing market with online home tours feating all characteristics and designs. Realtors use VR tours to promote new listings or assist buyers in choosing a house remotely.
AI
Artificial intelligence automates clerk processes for real estate agents. Implemented AI technology can generate personalized work emails, and classify listings according to various characteristics, compare and analyze the market, tag relevant photos, calculate the real cost, and much more. We can only predict AI direction will improve in the near future and offer more solutions to optimize realtors' jobs. 
How real estate tech startups can transform the industry
The research states that more than 50% of Property Tech solutions for real estate focus on leasing and sale, while only 12% on the investment sector and 16% - on construction. However, real estate startups can cover any industry niche and provide Proptech solutions for individual use, small companies, and global enterprises. Here are the top five directions developers choose to innovate:
Rentals & Sale
One of the most famous software and app solutions are platforms, like Zillow, designed to digitalize renting or buying experience. Such marketplaces serve both commercial and residential real estate markets, whether connecting property hunters to realtors or offering services without a third party. Rental&Sale Proptech solutions offer: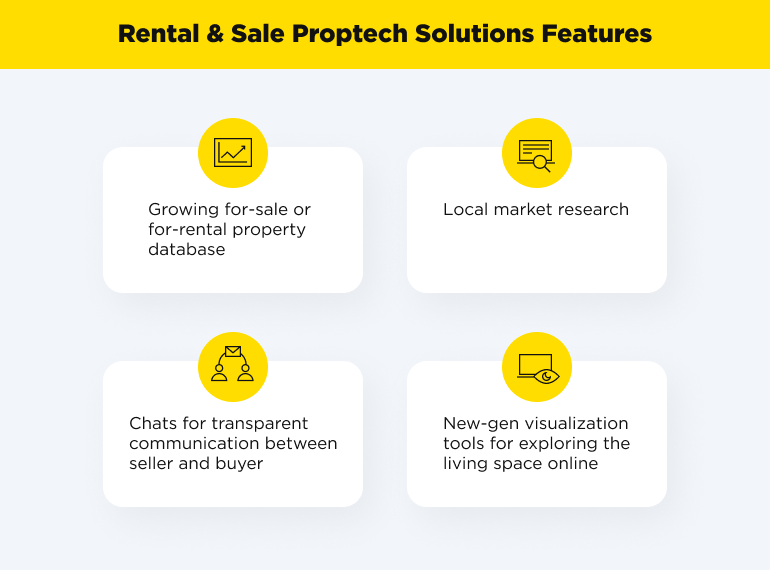 Growing for-sale or for-rental property database; 
Local market research; 
Chats for transparent communication between seller and buyer; 
New-gen visualization tools for exploring the living space online. 
Realtors tools
The real estate customer relationship management (CRM) system is a game-changing tool for agents and companies. By digitizing and simplifying realtors' workflow, CRMs are a must-have for the agency to have a competitive edge on the market. Real estate CRM offers users the following: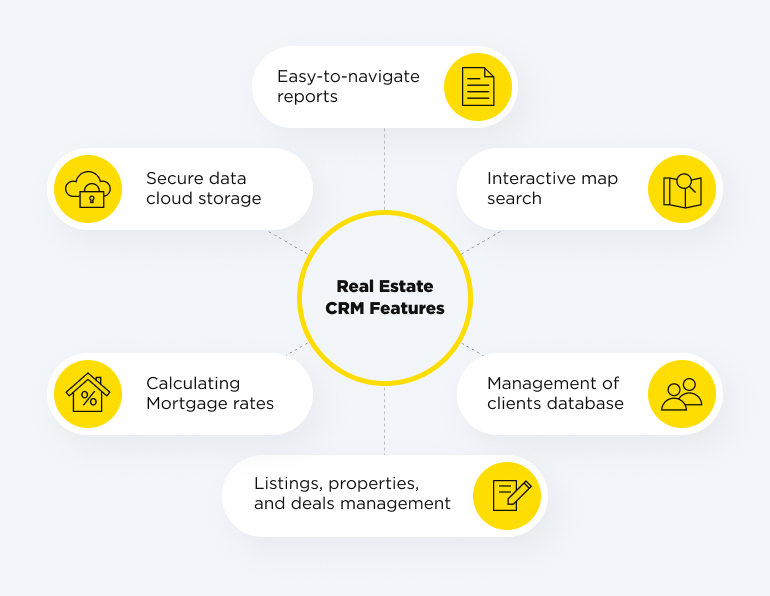 Secure data cloud storage; 
Calculating Mortgage rates; 
Listings, properties, and deals management; 
Interactive map search; 
Management of clients database; 
Easy-to-navigate reports. 
Facility and property management
There are some technological solutions for the facility managers and landlords offering remote or automated monitoring and surveillance of the housing units. Property management companies benefit from web systems that offer maintenance tools, smart security sensors, and IoT-powered management. Such Proptech software features:
Safety and compliance tools; 
In-build maintenance issues identifying tools; 
Automated algorithms for the request or tasks offload.
Real estate search
Real estate search web apps and platforms are designed to help commercial and residential buyer/seller reps at that or another real estate company generate and extend listings. The core features of the search Proptech solution are built-in graphs and charts to visualize the search, top-notch Geo mapping, advanced property listing filters, and easy-to-navigate records. 
Construction site management
Property tech developers come up with apps and software to serve the construction sector to improve communication through projects and optimize the administrative workflow. Whether it's Proptech commercial real estate solutions or for residential purposes, the software focuses on the following: 
Connecting construction management directly with clients, with no third party involved; 
Tracking the building progress; 
Solving any construction defects remotely; 
documentation management; 
Real-time task assignment.
FAQ
What does the word Proptech mean?
What is Proptech? The answer is simple property+ technology. Developers elevate the real estate sector, serving investment and housing markets, providing tools for various professionals in the industry, and implementing revolutionary solutions by using innovative tech.
What is CRE?
CRE is short for commercial real estate, referring to different types of business-related property with income-generating potential.
What makes Proptech a fast-growing niche?
The real estate industry is one of the primary investment fields with a forever-growing demand. Therefore, any tech innovations designed to automate or simplify tasks or work processes are bound for success. Real estate tech companies assist many professionals in delivering outstanding services and empower entrepreneurs to get faster returns on Investments.