Why is Strapi the best headless CMS?
One faces many challenges when running an e-commerce business. Yet, some applications and software limit business owners in content management. Seeing typos in the product description or the homepage is frustrating, especially when there is no easy fixing solution. With content management systems, entrepreneurs can improve the digital experience and implement new updates and features without developing the experience. With Strapi CMS E-commerce applications, you get a new efficient way of managing your business digital platforms with little to no technical skill. 
Read on to find out ways the Strapi framework transforms the e-commerce industry. Discover the pros and cons of using API CMS headless Strapi products in your business and how to find the best-suited development team to build a simple e-commerce application that will optimize the business processes and help your brand grow. 
What is Strapi - Overlook
First of all, let's define what's a headless content management system. CMS consists of a backend (body) and head (head) development. Therefore, headless CMS includes powerful backend development, a database for storage, and an API to spread the content. Without a frontend framework, CMS allows publishing and managing content on various platforms. 
Headless CMS Strapi products are game-changing for the e-commerce industry. Strapi allows building applications with seamless integrations, a reliable database, and API-powered content distribution, offering an omnichannel experience for its users. Strapi provides unique features to the headless project that are available on traditional digital platforms, like content search, authentication methods, content relationships, and more. Strapi CMS, as a React.JS product, is a solution for companies stuck using platforms with no customization possibilities. Uniquely tailored Strapi CMS gives you flexibility and freedom without coding knowledge.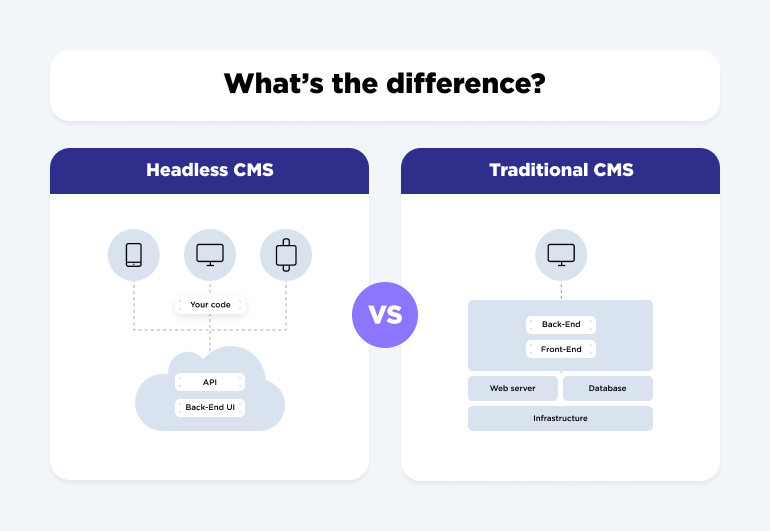 Why is Strapi significant for E-commerce projects?
With Strapi development, you can power up an E-commerce business, as it features: 
An omnichannel approach to distribute content structures; 
The modular architecture allows scalability and growth, handling high traffic;
With an easy-to-follow interface, admins can deliver faster web app content; 
Easily customizable projects;
Introduced payment integrations;
A large community of developers and users;
Self-hosting; 
Reusability of already existing projects.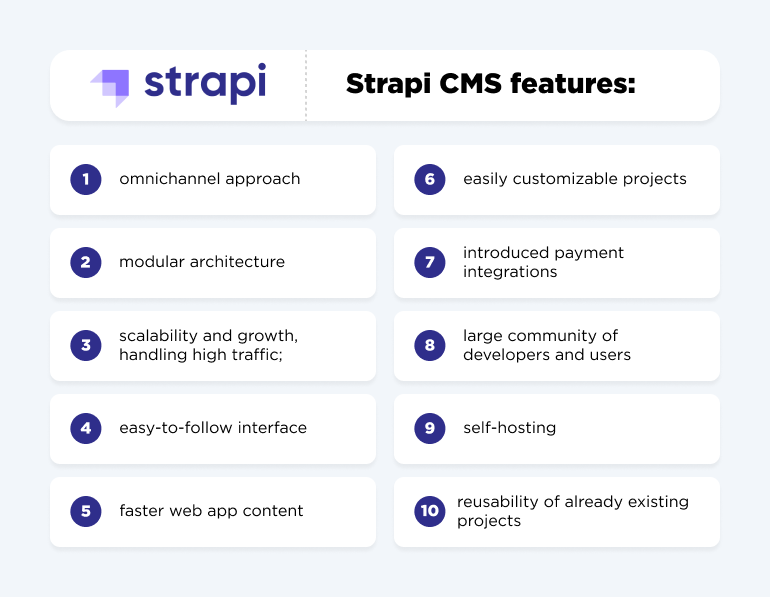 Strapi is the ultimate tool for e-commerce businesses that assist in creating branded flexible content, managing multiple digital channels and connected devices, and optimizing workflow. In compersion with other systems like Craft or Netlify, Strapi has leading points. Therefore, between Craft CMS VS Strapi, the last one is the ultimate choice for creating products from scratch and managing them with zero to no tech experience. Now let's take a close look and see the flaws and advantages of the Strapi platform. 
Using Strapi for your business: Pros
Among many headless CMS platforms, Strapi stands out with countless advantages for building digital application content management. Here are the reasons why Netlify CMS VS Strapi entrepreneurs worldwide choose the second option: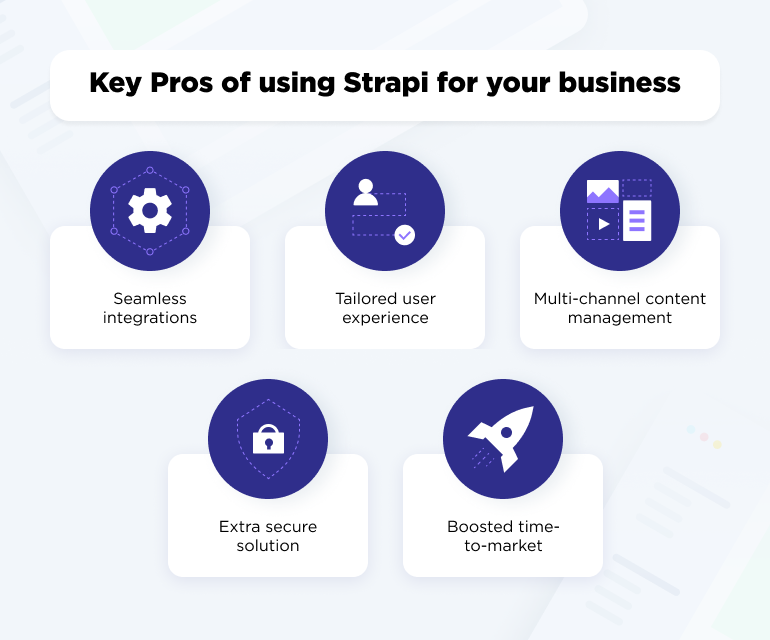 Seamless integrations
Strapi is an excellent choice for those who develop in Node, as it supports Koa and Express. Moreover, with Strapi, you can boost the experience by using adaptive features, allowing integrations with a third party. Whether you prefer to integrate a third-party database, work with different programming languages like React, Python, or Angular, or choose various backend and front-end frameworks. 
Multi-channel content management
Strapi offers a fully customized experience to generate beautiful content and distribute it across multiple platforms. By working on one admin panel, you get access to create, edit, manage, and publish content to blog posts, social media accounts, and homepage product descriptions. Strapi allows working with all content types, from text and articles to photos and videos. Cutting-edge features allow admins to control content relevancy, ensuring that your web page stays on top of the search engine to boost conversion rates and attract new loyal clientele to your e-commerce business.
Extra secure solution
For any online business, data integrity is the number one priority. In the content management systems comparison of Strapi VS Netlify CMS, Strapi is the far more secure solution. With the built-in authentication system, users can stay assured that their web platforms are protected from cybersecurity threats and malware. Strapi offers out-of-the-box tools to manage accessibility, authorization, and validation to reduce the risk of security vulnerabilities. 
Tailored user experience
Other platforms might have other turning-point advantages. Yet, when it comes to the user experience, Strapi is an absolute leader. The goal of an E-commerce company is to provide equally great customer service on all channels and platforms. The Strapi CMS example guarantees that you can offer outstanding services most efficiently. Strapi interface offers:
Advanced admin interface to manage content publishing environment;
A wide selection of prebuild features to assist developers in the fast application creation process; 
Permission system allows sharing web platform parts with their users. 

With a custom code, you get a fully tailored user experience with the ability to improve and add new functionalities and features to your business growth. 
Boosted time-to-market
Imagine how fast you can get a market-ready product without spending time on backend development. Strapi offers a refreshing site Interface, adding new features or content in a couple of simple clicks. Moreover, with Strapi, you can:
Clone already existing products from a marketplace or create a new application; 
Edit configuration file ( frameworks, programming languages, front-end/ backend development); 
Update routes; 
Add new controllers for content management.
Any changes can be easily implemented as Strapi automatically creates required APIs.
Ready to build a project with Strapi?
Contact our team and receive a free consultation for your future project
contact us
Using Strapi For your business: the list of cons
However, Strapi, like every other platform, has its flaws the business owner has to know about before choosing to work with it. So what could be a deal-breaker? 
Lack of TypeScript support
Unfortunately, Strapi doesn't support TypeScript technology. For an advanced user, it means limited experiences due to missing revolutionary features. However, with the plug-in from the npm repository can add TypeScript back just in a couple of clicks. 
Complicated migration process
Strapi is the best-suited option for from-scratch development. However, migrating existing backend systems to Strapi is challenging and time-consuming. You'll have to manually implement some of the essential components, as Strapi doesn't have native support. Some traditional CMS platforms have the same workflow as the WordPress making migration simple and quick.
Constant program updates
We have bad news for developers who prefer working on stable software. Strapi is a growing tool. Therefore developers frequently introduce updates and improvements to a steady product version. That is typical for an open-source tool, yet users need to keep an eye on the weekly update reports to avoid sudden surprises in performance. 
Tips for finding a trustworthy Strapi development agency 
For a successful product launch, it's necessary to trust the right team to bring the idea concept to life. Here are some tips for entrepreneurs to help you navigate the market of headless CMS Strapi developers and select the best company to partner up with: 
List down all agencies that resonate with your vision and brand identity; 
Go through each team's portfolio and research their Strapi CMS reviews;
Don't hesitate to ask for references or contact previous clients to get insights on workflow and communication organization;
Select agencies with decades of experience serving specific industries and working with required technology; 
Contact your favorite options for a consultation to get their fees and timeframes on your specific project; 
Ensure that developers can meet all your specific requirements, like responsive design for various devices, payment integrations, and more. 
Choose a company that meets all your crucial requirements, fits in the budgeting, and is eager to bring your e-commerce project to life. 
What are the average fees of Strapi developers?
Entrepreneurs can choose a professional IT company or a freelance developer to execute the Strapi CMS E-commerce project. On average, around the US, hiring a freelancer will cost USD 25/ per hour, while services of development agencies start from USD 40/ per hour. Delegating to a freelancer might be cheaper, yet you lose the quality and might not have access to the cutting-edge technology required to elevate the product. With the professional development service, one can ensure the execution of market-ready products with amazing user experience, stable performance, and top-notch functionality. 
For business owners whose budgets cannot afford USA-based developers, there is a solution to outsource to a top-rated off-shore company located in Western or Eastern Europe. That way, one can get the market-leading quality that fits your budget. 
FAQ
What does Strapi development mean?
Strapi development means building applications, websites, or Strapi online e-commerce stores using open-source and headless CMS for omnichannel content management. 
Can I use Strapi for a big project?
Strapi main features are scalability and flexibility, making it an excellent fit for larger projects with many custom requirements and extended development time. 
Does Strapi allow self-hosting?
Yes! Strapi is self-hosted, yet it's up to developers to decide where to host and deploy Strapi projects.
Is Strapi a better option than WordPress?
Traditional CMS like WordPress have a tendency for slow performance and require time-consuming and complex custom development to become responsive and more efficient. Headless CMS like Strapi overcome those challenges helping developers reach outstanding results in a much shorter time.