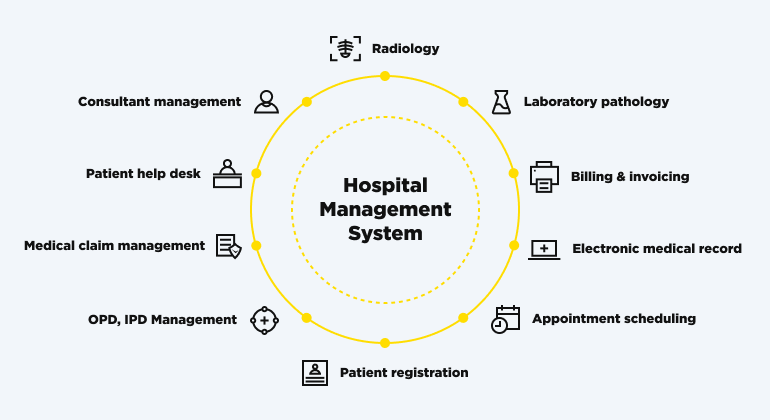 HMS (Healthcare Management System) AKA Hospital Management Upgrade
Over the last few decades, the need to digitize the healthcare services industry has increased immensely. Having a system in place that will not only allow but also enhance administrative as well as clinical operations in the medical field is a must. Healthcare Management System is an all-in-one software system that provides expert solutions, automates daily operations, manages documentation, inventory, and bills, and overall lifts the heavy weight off the clinicians' shoulders. More and more of these software tools are appearing in healthcare facilities all over the globe, improving the quality of the services provided and pulling their weight in making the world more digitized and structured.
What exactly is a healthcare management system?
Basically, a healthcare management system is a cloud-based web medical management framework that registers and incorporates the data from every single department to make all the internal activities automated.
A healthcare management system software seeks to cover a wide range of tasks: from streamlining the workflow for medics to providing superior patient experience and everything in between, such as downsizing administrative costs and reducing errors.
HMS consolidates clinicians, patients, medical supplies, laboratory results data, insurance, medical bills, doctor appointments, and reports. 
Imagine a healthcare system without an accurate medical facility management apparatus: it doesn't efficiently retain decent staff, provides low-grade patient care, and isn't even profitable enough. Sounds not great, right? With the appropriate HMS, you may rest assured that every task is being taken care of effectively!
Perks of Hospital Management Systems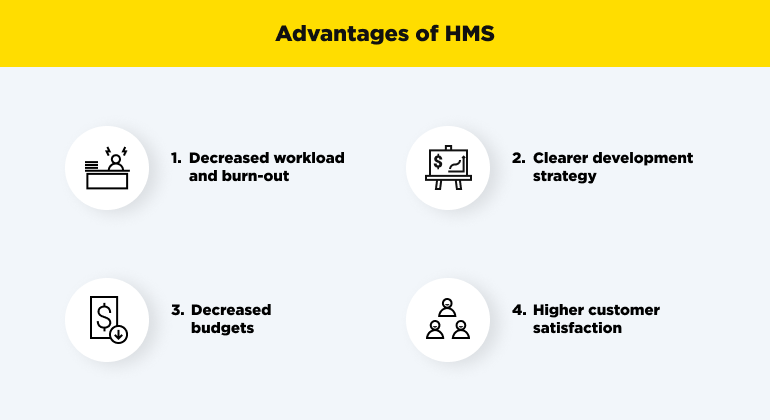 Now that you've learned that HMS ensures that a large amount of clinical, operational, and financial information is managed, collected, and integrated into a digitized space, you may wonder what precise benefits it renders for both clinicians and patients. Here we will explain what an ace up your sleeve a healthcare management software system is.
Lower cost and workload
The prosperity of the organization and the ability to provide good care are undeniably linked to adequate resource distribution. Proper budgeting and a judiciously-managed workload are the keys to the finest hospital performance planning procedure. HMS allows the management to scan various monetary tasks (i.e., costs, benefits, losses, as well as paying taxes and bills and outpatient billing). Moreover, are you thinking about investigating possible business prospects? The financial awareness has you covered: you'll definitely know what would be the right path to take.
Additionally, if all records and transactions are retained in the system, it is possible to monitor all the clinical, financial, and of course, patient data.
Since the software provides wide-ranging scheduling capabilities and alternatives, it obviously improves doctor-patient communication greatly.
Better patient experience
By making the hospital administration software notably more scalable, dependable and consistent, we thus improve patient experience and ensure that any healthcare operations are significantly more effective.
In order to avoid such distressing issues as delayed care for patients requiring urgent medical attention, spot-on data management is a must. Proper management is the foundation for success, and it prevents lots of minor or major problems. A hospital management software, in particular, is going to upgrade not just the allure but also the efficacy of healthcare services for doctors and patients alike.
Refined workflow
Implementing a system software capable of capturing and managing all sorts of medical data, inventory, results, and reporting can lead to drastic improvements in a hospital's cost-effectiveness. Given that the data filtering process is automated, the software ensures swift operational procedures, and humans are no longer required to undertake any repetitive and time-consuming tasks.
It's no secret that the second biggest cause of healthcare mishandling is, of course, human errors, which are easily avoided or at least greatly minimized with a proper HMS in place. This means that the likelihood of accidental duplication, record typos, or any other kind of human error is dramatically reduced.
Check out our case study and see how we developed a Healthcare Management Platform for one of the leading US physical therapy companies PeteHealth. 
Key HMS Features
Lab Management
This feature not only allows managing test results and patient data but also increases workflow efficacy, improves data accuracy, and overall adds more value to the patient treatment procedure due to the system's ability to interact with other lab systems.
Laboratory results management may consist of quality assurance and reporting, sample tracking, and so on. The process runs in the following manner: the HMS system incorporates lab systems, then collects necessary data, and finally sorts it all out while also allowing for any additional patient info to be layered if needed.
Electronic Medical Records (EMR) management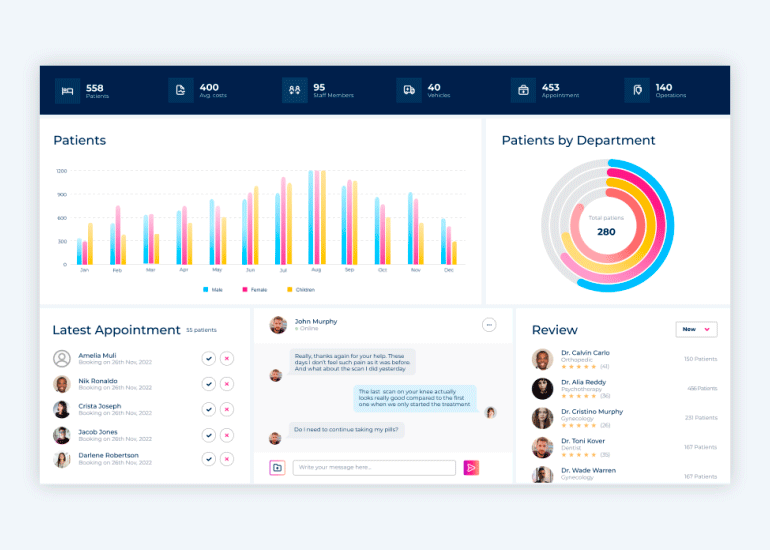 See the full design concept on OTAKOYI Behance.
EMR software is a unified data nucleus containing all essential patient information (i.e., health records, medications, vaccines, doctor's notes, visits, you name it).
As healthcare solutions evolved over the years and also due to the global pandemic and therefore increased digitization of the healthcare industry, effective, smooth-running EHR will be required exponentially more.
Mobile Applications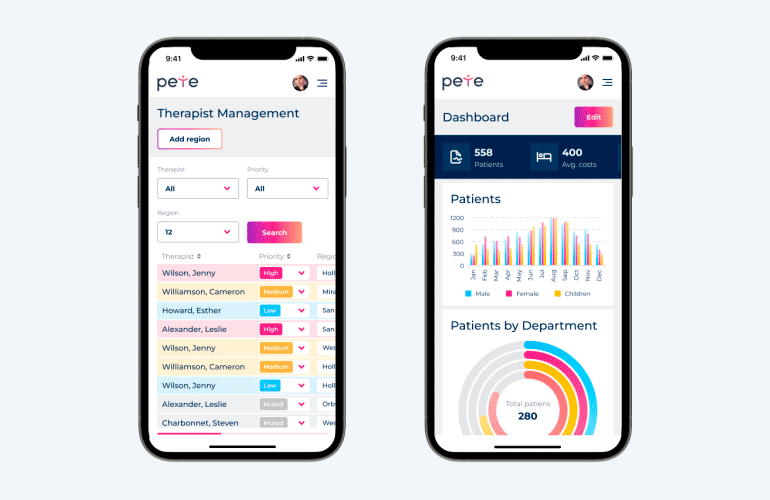 See the full design concept on OTAKOYI Behance.
The hospital's life cycle these days is highly dependent on healthcare mobile apps. Patient-targeted apps and products are essential components in the fast-growing health tech industry, showing the tendency to increase further in the upcoming years.
A simple, functional, and well-integrated app may significantly enhance the user as well as customer experience. As a user, you wish for the obvious advantages of a detailed and functional app design. Still, you also highly appreciate the benefits of speedier and more effective treatment as a customer.
The improved functionality of a simple interface is going to aid in providing the patients with the utmost medical experience, which may also result in improved disease treatment efficacy.
Inventory management
Prescribing and requesting pharmaceuticals is what most doctors and patients look for in any health service. Digital order management (typically that's e-Prescribing, Medication Tracking, or EMAR, and Computerized Physician Order Entry or CPOE) not only diminishes the timewasting manual prescription process but also provides treatment security and agreements. Imagine a patient is supplied with several drugs. They would appreciate a system that could recognize which components conflict with one another and would send recommendations and possible warnings. 
Billing
A wide range of payment options boosts the medical clinic's reputation and reduces manual and administrative work. The feature enables insurance eligibility verification by real-time monitoring whether the insurance is operating legally or not, still valid or expired, and what services it covers.
Patient scheduling system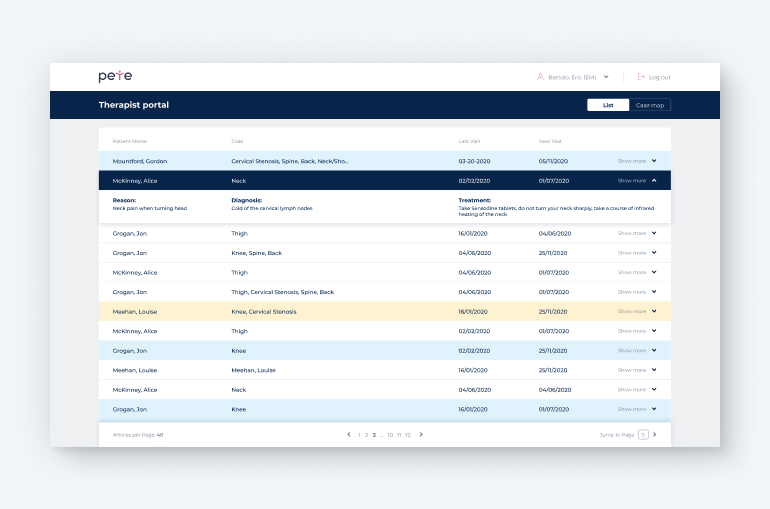 See the full design concept on OTAKOYI Behance.
Plenty of scheduling options aid both physicians and patients in establishing effective communication. A well-designed hospital management system software helps you keep track of all your appointments as well as doctor's notes. You'll never miss anything, thanks to the platform's reminders, alerts, and follow-ups.
Data analytics and reporting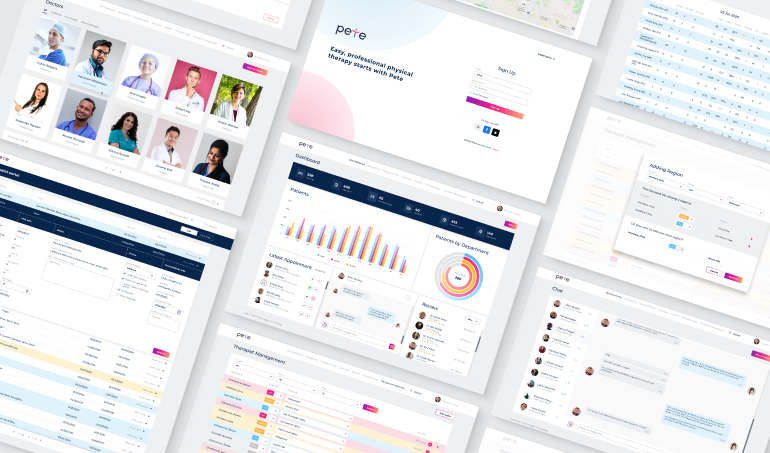 See the full design concept on OTAKOYI Behance.
Hospital management system software uses cognitive analytics in order to inspect any gaps in performance (let's say there's an overspending problem or payment failure), thus providing insights on how to enhance user experience possibly.
Reporting in healthcare is as important as in any other industry: in such a way, we better understand procedures. Making use of copious amounts of data also renders more accurate financial statistics. 
Upgraded clinical decision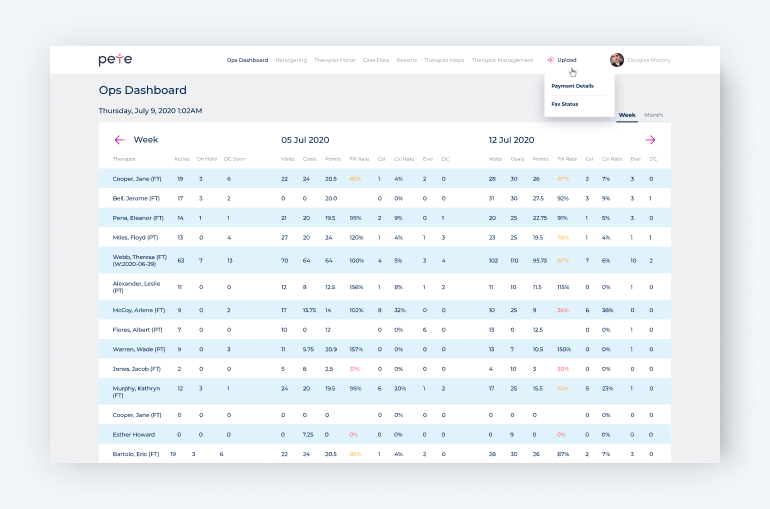 See the full design concept on OTAKOYI Behance.
A high-quality hospital management system ensures all the operational and clinical decision-making processes are speedy, efficient, and precise.
Advance data security
A system with centralized controls must be implemented if you want to avoid any security threat such as unauthorized access or even a cyber-attack. A top-notch management system with centralized controls is a security guarantee for the data of any health clinic.
Establish your hospital as cutting-edge
In our day and age, every industry has competitors, and healthcare is no exception. If you claim to be technically advanced, you absolutely need a first-rate HMS to back it up. Digitized healthcare systems are the future, so you better implement a hospital management system that will make your doctors and patients satisfied!
Achieve high-quality ratings
The desired 5-star rate is entirely within your reach if you implement a digitized healthcare management system that provides lots of perks we introduced above. 
Ready to build a Healthcare product?
Contact our team and receive a free consultation and plan for your future project
Contact us
Hospital management software development with OTAKOYI
Wondering how to develop a hospital management system? Otakoyi is here to help! We are a dedicated team of perfectionists that never fail to meet a client's expectations. We have years of considerable experience in health tech solutions. Otakoyi aids medical businesses in overcoming every obstacle on the way to producing an amazing healthcare management system software. Our human-centric approach is what our clients value the most, but our expertise, first-class service, and tailored solutions are what makes them come back.
Contact us  to learn more about our healthcare software and application development.