What is Shopware?
The rapid growth of the eCommerce industry boosted the development of technological platforms for online stores and retail point-of-sale systems to a new level. More and more different software tools have appeared lately to create a unique online shopping experience that both delight users and are easy in using for businesses.
Shopware has not stood out of the list and took its place among the top-rated and most popular eCommerce platforms.

Shopware is an open-source e-commerce platform  based on a modern technology stack with the latest version powered by Symfony and Vue.js. It is focused on an API-first approach and provides the opportunity to run different sales channels.
Explore the possibilities of Shopware
Discover why Shopware development solutions  are a new trending direction in the online commerce industry, making it a top tool among worldwide companies for eCommerce growth.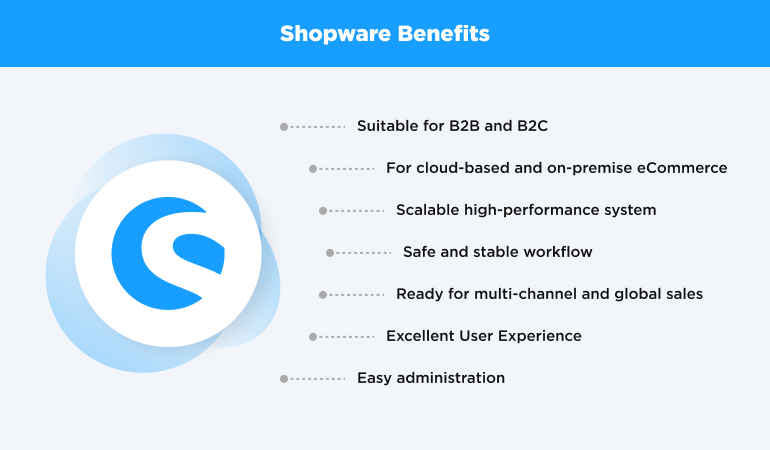 Safe and stable workflow
Shopware is an excellent integration solution for stable advanced companies and only-growing brands. With high stability, scalability, and reach functionality, Shopware can handle excessive working processes related to product delivery, sales, and customer service. In the case of business extension, the platform grows with it protecting the stable workflow.
Ready for multi-channel and global sales
Shopware development allows the creation of a unique eCommerce platform that reaches the targetted customers on multiple levels through omnichannel. Now you can extend the brand's outreach through the web store, social media shops (like Instagram sales), pop-up stores, and voice assistance searches. For global market companies, Shopware sustains a high level of customer service by including payment getaways, currency support, tax calculation, and ensuring safe transactions.
Excellent user experience
To increase customer service, Shopware ensures that products have a high-quality performance and functionality on any platform, including mobile devices. With responsive design, you can ensure your brand reaches the audience 24/7, providing an outstanding user experience.
Easy administration
With Shopware eCommerce products, businesses can guarantee easy-to-navigate management of their platforms. By adopting a dedicated sales process and creating sales steps, the administration will work in your favor, affecting customer service and not slowing down the workflow. 
Shopware development solutions and services from OTAKOYI
If you're looking for a Shopware development company, we got you covered. At OTAKOYI, we put clients' vision, needs, and requirements as the number one priority to provide 100% satisfactory results. Our professional team offers a wide spectrum of Shopware development services to elevate the eCommerce industry. 
Shopware UI&UX design solutions
The superb User experience (UX) and Users Interface (UI)  are crucial elements of creating the Shopware platform, as they directly affect the conversion rate, giving you tons of new customers. At OTAKOYI, we create trendy and stylish visuals with highly functional e-commerce app designs and unique ​​features to win users over and create a loyal clientele for your brand.
Responsive theme design 
Our creative team is blooming with ideas for unique theme development that fits specific brand identity and can capture the attention from the first seconds. With responsive themes design, we guarantee the scalability of our final product, making it accessible from any device or platform.
Custom Shopware development 
The client-oriented approach is the bone of our workflow building as a Shopware development agency. We guarantee custom solutions tailored uniquely to your project requirements and brand values.
Shopware payments integrations
As a part of the Shopware store development process, we integrate tools for money transactions and payment gateway , creating a safe and secure eCommerce space for the online business.
Shopware plugin solutions
Shopware plugin development provides a built-in configuration allowing adding more features and functionalities along the way as your business expands. Our Shopware plugin design is easy-to-follow, making any new adjustments possible.
Extensive Shopware support
We won't leave you alone in the wild after the finish of the development process and the final product is ready to launch. Therefore, as part of our development service, we provide maintenance and support to keep the platform updated and running smoothly.
Ready to build an online store with Shopware?
Contact our team and receive a free consultation for your eCommerce project
contact us
Shopware online
Online store development services
Using the latest technology, we can create a fully operational Shopware store, serving the customers online and a remote management system. Shopware store development allows us to extend the physical business to a new realm or create a retail company from scratch based only on the online platform.
Shopware migration solutions
Have an eCommerce website already but want to boost the project to a new level? With our Shopware migration service , we can secure a safe transition without losing any crucial data, functionality, and features. Using the Shopware API, we can give the existing project an upgrade aligned with the new requirements and brand goals.
Shopware website development services
Our Shopware development team crafts optimized websites with efficient marketing tools, applying search engine optimization strategy, easy account creation and management, secure payment systems, interactive design, easy-to-navigate order management, and more
Why Shopware Development Company
Partner up with professionals in the Shopware development industry to find new innovative ways to reach business goals faster. With access to the latest technology and creative tech talents, nothing is holding you back from boosting the eCommerce business to an out-of-this-world level, placing it in the top positions in the industry.
FAQ
Can you build search engine-friendly Shopware?
All of our Shopware development projects are aligned with SEO standards to guarantee our partners groundbreaking results and an increase in conversion rate.
Why should you hire a development partner for Shopware development services?
Our skilled development team has an innovative approach to executing your ideas, from websites and online stores to applications. For a competitive cost, we offer leading services and access to cutting-edge technology to make the vision come to life. Our Shopware development company has years of experience working cross-industry and can tailor custom solutions to any brand's needs.
How much would it cost to develop a Shopware 6 project? 
Shopware development is a complex and individual process. Therefore, many factors and requirements determine the final price of the projects. Contact us directly to find out the budget for a specific Shopware 6 development project.