Shopware VS Shopify: Discover what solution is better for an online store
Whether you're starting the journey in the eCommerce industry or looking for a more optimized solution to serve your brand, the question is what system covers all crucial requirements and helps businesses grow. In this blog article, you can discover the Shopware VS Shopify differences through a comparative analysis of the systems' key features and cost-to-value ratio. 
Shopware VS Shopify
A storage system is a helpful tool for managing web stores and eCommerce mobile apps with little or no IT experience. Adopting store systems is an excellent way to optimize business processes, simplify payments and transactions, and provide outstanding customer services with innovative features and widgets. Overall, there are more than 60 different platforms for creating an online shop. However, the leading CMS used among top-rated eCommerce projects are Shopify and Shopware.
Shopify  is a Canadian platform created in 2004, with the first fully operating project released in 2006. As a cloud-based, modular system, Shopify serves medium and small start-up businesses. Shopware  was founded in Germany in 2004, yet Shopware 6 is the most successful upgrade since 2019. The fledge-full store system is designed to match the requirements of medium businesses and global enterprises. That's the fundamental difference between Shopware VS Shopify. Yet, it doesn't answer what  CMS is a better solution for an online brand.
Shopware VS Shopify: a guide to differences between the two systems
The ultimate way to find out which of the two eCommerce software platforms works best for the needs and goals of your company is to research all features and characteristics. Here are the key differences between Shopware VS Shopify highlighted by tech developers!
Introduction to Shopware
Shopware is an eCommerce platform that serves as a tool for entrepreneurs to create an online store business, extend the market of an existing brand, and overall reach improve business growth. The software now powers more than 40,000 websites worldwide. The system is easy-to-learn with a wide range of functions that aim to boost customer service, simplify payments, deliveries, inventory management, and much more. With a custom design option, you can adopt any functionality that meets specific business requirements and upgrade the features as your brand grows over time. Shopware allows stable and safe company development.
Introduction to Shopify
Shopify allows the creation of new ECommerce businesses within a couple of minutes, with easy navigation, theme templates, and ready-to-use functionality sets. Being a cloud-based system, Shopify makes it easier for entrepreneurs to sync various platforms like websites, apps, and social media stores under one database. Overall, Shopify resembles Shopware, yet the additional features like a shopping cart or dropshipping make it stand out and cover the unique needs of many worldwide brands. 
Shopware features outlook
Now, let's see the contrast in functionality and characteristics between Shopware VS Shopify.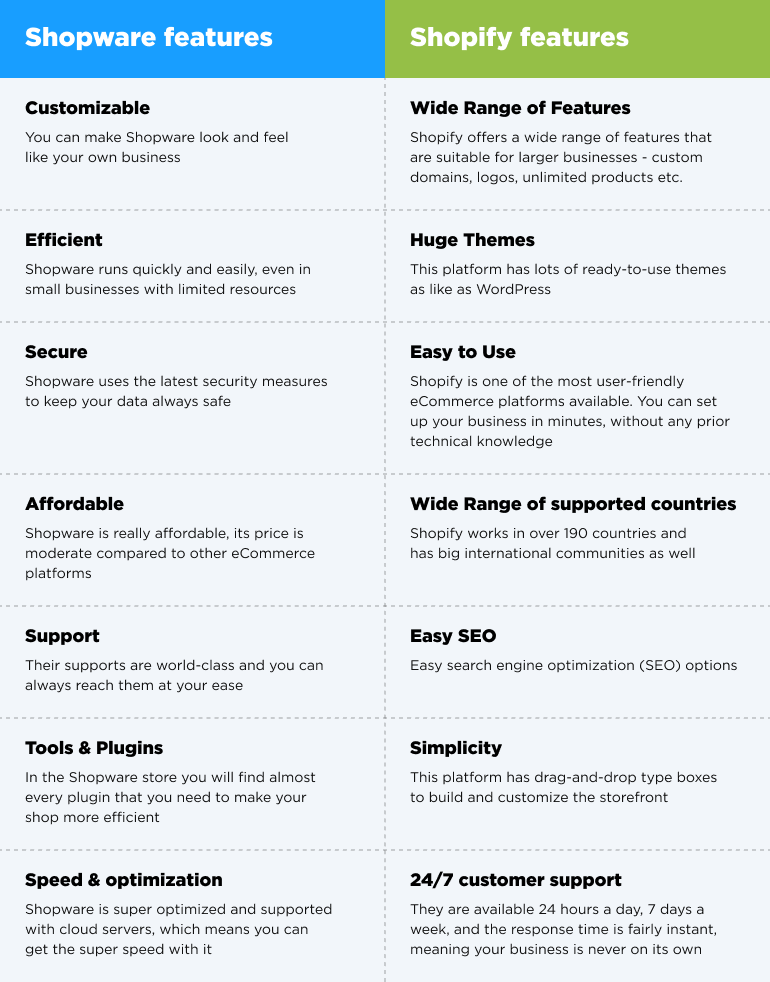 Easy product management
Adopting a product promotions management strategy is crucial for an online shop.  Shopware tools make advertisement and promotion design easy, with eye-catching visuals and smart widgets to give customers all the needed information about the product and increase conversion rate.
Unique design
Shopware eCommerce projects can boost the user experience of your platform through customized themes and designs. With powerful CMS, the company can manage high-quality written and visual content to create a united and loyal brand community.
SEO-optimized marketing
With integrated Google Analytics standards into the online platform, the eCommerce business can stay on top of the search, boosting the outreach to targeted audiences. SEO Shopware implementations help grow marketing strategy, attracting good-quality customers, no matter region or country. 
Shopware API technology
With leading top-notch technologies, Shopware software guarantees smooth workflow and data protection. Shopware products have embedded CAPTCHA, Cookie-consent-tool, and honeypot solutions. 
Customers and prices policy
The latest upgrade, Shopware 6, comes with shop baskets and simplified checkouts for better customer service. The software adjusts to various countries and currencies, allowing the brand to expand on the global market. With Shopware, you can automate credit card invoicing, cancelations, and more.
Online store configuration
Shopware eCommerce products have built-in risk optimization, embedded payments, shipping, and storing systems, making the online store an efficient and optimized independent business. 
Expandability
You can improve workflow flaws with various functionality and widgets, whether you're operating a medium business or a global enterprise. Shopware software will guarantee a safe transition, protecting the data and business process whenever you want to extend the market share. 
Support and Maintenance
The Shopware AI developers can fix the issue online without interrupting the sale process if you require technical support or an update. 
Ready to build an online store?
Contact our team and receive a free consultation for your eCommerce project
contact us
Shopify features outlook
The difficulty of choosing the better system between Shopware VS Shopify is the cutting-edge technology used on both software. As we dived into Shopware feature analysis, here are the unique characteristics of Shopify eCommerce products. 
Cutting-edge SEO tools
Shopify brings search engine optimization services to a new level. The Booster Image and SEO Optimizer tolls are game changers in improving eCommerce platforms' visibility on the global web and increasing potential customers.
Point of Sale features
Shopify POS is explicitly designed technology to manage both physical and online stores simultaneously. It helps create community-like clientele around the brand, implement loyalty systems, special promotions, and discounts, track online and offline sales, organize store pick-ups, and more for ultimate customer service.
Integrated Analytics
Shopify product versions integrate tools to track sales, marketing, and customer activities and automate some documentation processes to ensure faster business growth. Shopify Analytics assists companies in market study and customer portrait building for marketing strategies to boost sales and profit. 
Abandoned cart reminders
With Shopify, companies can adopt the Abandoned Cart Checkout tool to notify customers about the product they have liked on the platform. Such a strategy allows you to convert more potential leads and boost online sales. 
Dropshipping services
Shopify went above and beyond for the eCommerce industry with the dropshipping service. Allowing business owners to deliver products directly from a third party, without brand manufacture or inventory storage, Shopify made it possible to create a 100% remote and online store.
The question of budget: the price comparison
When it comes to the price differences between Shopware 6 VS Shopify, the systems have opposed subscription policies. Shopware offers a free option with limited abilities or several types of memberships, with the most expensive being 2,495€/month for the enterprise edition. Shopify doesn't have a free option, yet the basic subscription plan costs $29/month. One should expect to pay $299/month for an advanced membership. Between Shopware VS Shopify, the first one is the most affordable solution among competitors. 
What eCommerce platform is better Shopware or Shopify?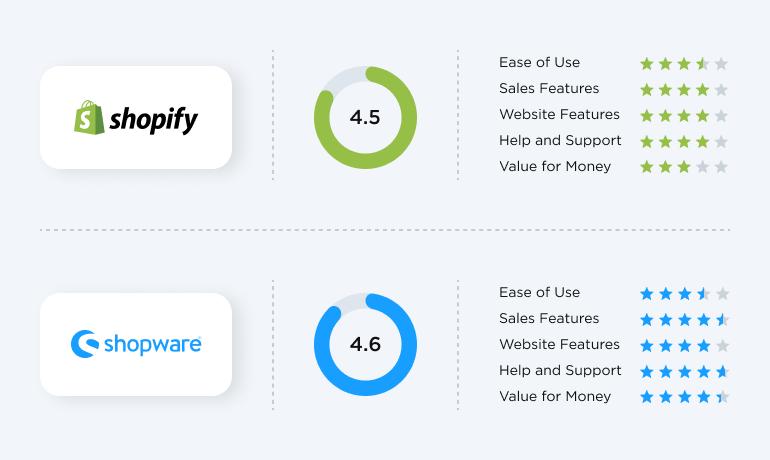 One should choose between Shopware 6 VS Shopify depending on unique needs and ideas. Even though Shopify offers a wide range of features, there are some solutions that you can find only with Shopware. Moreover, as Shopware provides an option for professional development to customize the product, you can always contact the agency to implement new features.