What's the difference between UX/UI and Web Design and what they actually are? Are UI and UX design two separate notions? Which one to choose then? Many questions yet so few direct, comprehensive answers.  
This article is going to solve this issue. I will try to describe what each of the mentioned-above notions means and how they relate to each other. We will also see whether you can really choose between UX and UI or whether both of them are mandatory.
What is Web Design?
Let's make it clear from the very beginning — nowadays, "Web Design" is an outdated term that was used earlier to describe how a person single-handedly manages all of the design processes in website development. Before 2015, a web designer used to be a person that was in charge of design creation, but he/she did not perform any "Research" activities individually for each project. 
Today, Web Design is divided into a variety of subdivisions, including Information Architecture (IA), User Experience (UX) design, User Interface (UI) design, and other categories. Therefore, while earlier there was one solid flaw called "Web Design," now there are many different streams that separated the river.
As a matter of fact, it appeared to be much more efficient. Web design was not focused on solving business problems, satisfying users' needs, and thus could not lead to 100% gratification. Every decision was made on the basis of subjective experience, not on in-depth research as it should be. Thus, the division that happened to web design is quite a good thing since it allows separate design categories to focus on their specific matters and issues, leading to a much better result. 
Nevertheless, a general understanding of what is web design connects it with visual and functional parts of a website. Though it is intertwined with graphic design skills like handling color scheme selection and typography, web design goes far beyond it since designers should also be aware of technical constraints and functionality, recent tech trends, as well as the expectations that users have towards modern websites or web apps. Most web designers are good at front-end and can work with HTML, CSS, Javascript without any external assistance.
Web designers ought to know something about business and sales tactics to make sure that the visuals they produce lead to a desirable outcome. These include such things as placing the "call-to-action" (CTA) button in the right place to ensure that users would notice and click it and choosing a suitable visual style to fit a particular niche.
What is UX Design?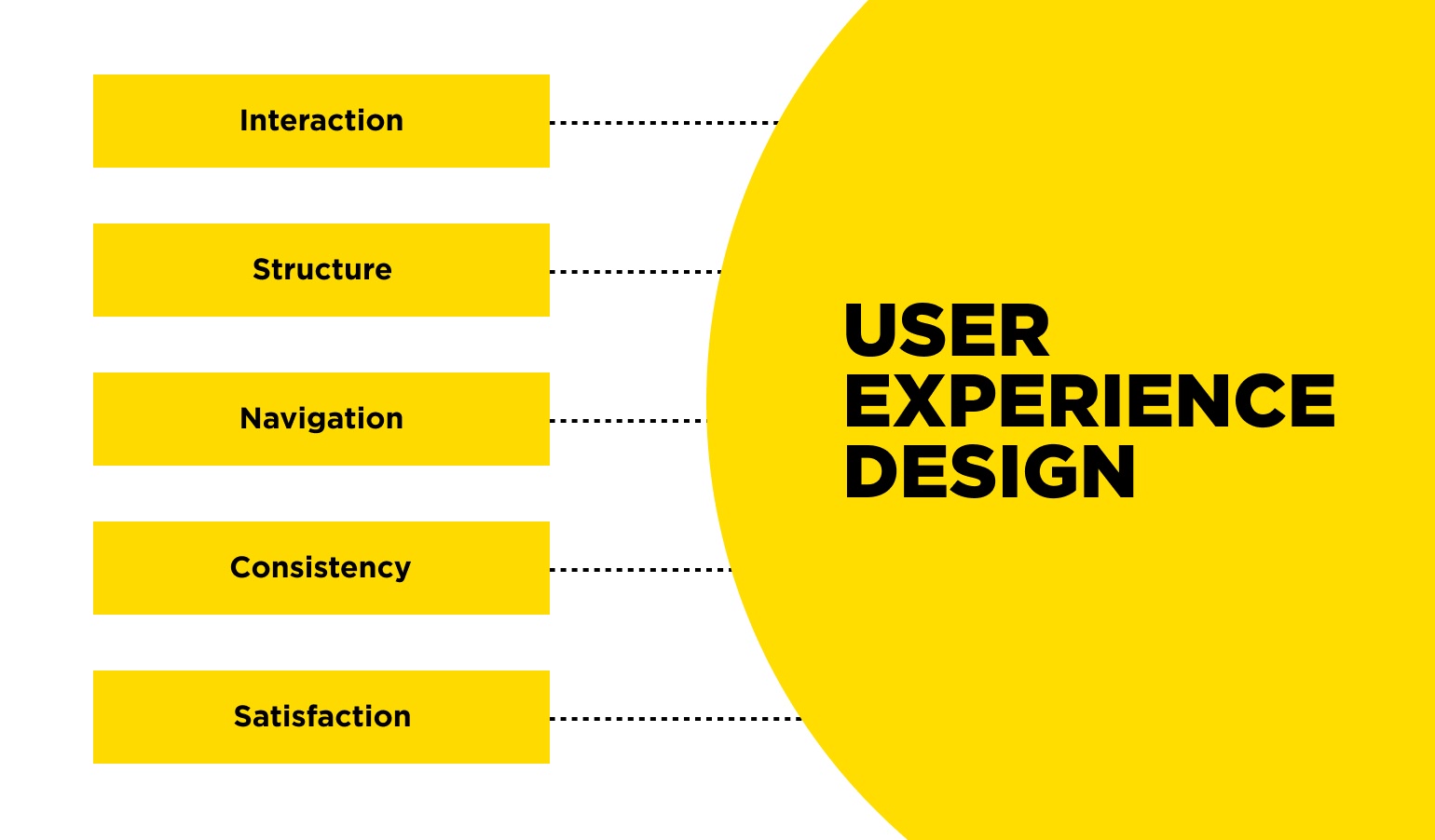 The UX or User Experience design determines how users will interact with a product. Unlike User Interface that deals with visuals, UX design is focused on feelings and experiences. It can be applied to almost anything that can be experienced by a person, be it a mobile app, a new potato chip package, or your recent walk and purchase in the nearest Walmart store. As a customer, you can share your experience from that Walmart visit by saying how well the staff welcomed you, whether the variety of the offered products satisfied your needs, or if there were enough parking places. 
The same works for software products. The UX web design is going to show whether the user-computer interaction is smooth and intuitive, how well the navigation feels, whether the app's functionality corresponds to users' needs and manages to effectively satisfy them, and so on.
In fact, UX designers also deal with the user interface, and that is probably the reason why many people are confused about what is the difference in the duties of UX and UI designers and why they compare UX vs web design. User Experience design examines how difficult it is for a user to interact with the created user interface. UX designers work on the structure and functionality of a user interface: they decide how the elements should be organized and relate to each other. They also use wireframes to collect users' feedback on a product's structure. The ultimate goal is to make human-computer interaction as effortless as possible and ensure that the navigation is intuitive and seamless. 
User Experience designers should possess a profound understanding of how users tend to interact with software products and, of course, they should not be devoid of empathy.
What is UI Design?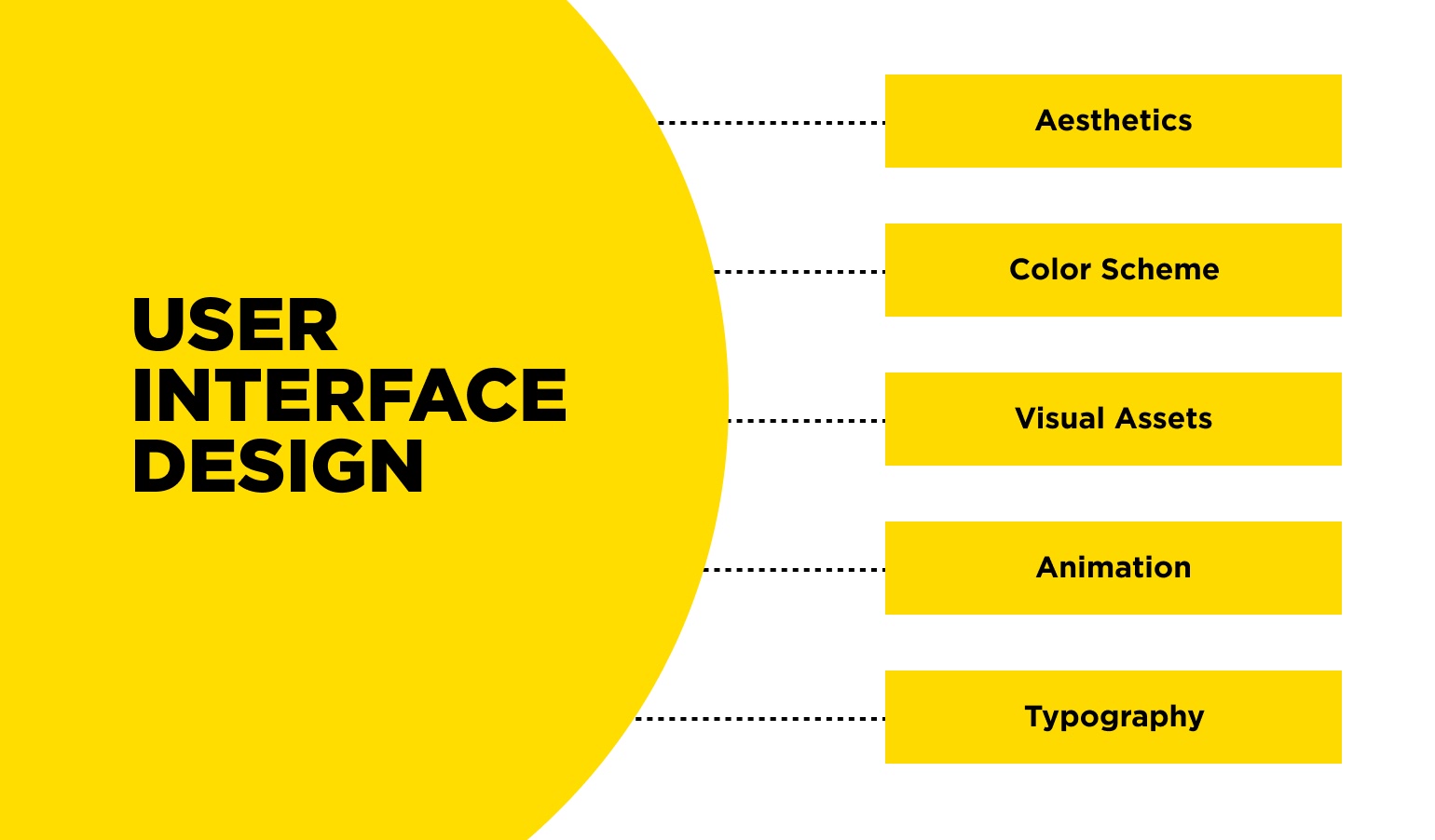 The UI or User Interface design determines what the visual representation of an application will look like. User Interface consists of everything you see when using an app, including screen layout, textual information, images, interface animations, little interactions, slides, buttons that you can click on, and so on and so forth. All of these items are directly connected and determined by UI design.
And here is where the job of UI designers starts since they decide on how an app will eventually look. So there is a whole heap of creativity involved. UI designers are graphic designers and they are focused first of all on the aesthetics of a product. UI designers pick the most suitable and appealing color schemes, shapes and sizes of buttons and other interactive elements, they choose text fonts, and other visual elements. One of their chief tasks is to create something that target users will enjoy looking at, and that is why they should know exactly how a user's brain perceives the picture they deliver. Not to mention that following recent design trends is a must-do for them. 
UI designers should not only have a sense of aesthetics, but they also have to know some aspects of user psychology. They must know how to use visual elements to their advantage. Starting from choosing a particular stimulative color scheme to evoke the right feelings in users, to changing the sizes of screen items to ensure that users will notice them in the exact same order as you planned.
Web Designer vs UX Designer
Web designers definitely have more common ground with UI designers than there are when comparing web design vs UX design. They are specialists in visual design and even do well with programming. However, web designers rarely possess the skills of creating a truly human-centric product and they surely do not use the same approaches as UX designers. 
In most cases, web designers focus on the functional aspect and visual representation of a website. Their chief goal is to create a visually attractive and functional software product, while the users' feelings and experience are considered superficially, on a basic level of understanding. 
UX designers have a far more profound knowledge in this niche and understand user psychology much better. They strive to choose the best interaction model, create personas through user surveys and questionnaires, analyze feedback to make sure that the product will be useful and user experience satisfying.
Therefore, you cannot actually choose either a web developer or UX designer since they perform different tasks and have distinctive skills. UX specialist serves as a supplement that is vital for good user experience and overall usability.
Web Designer vs UI Designer
Web designers and User Interface designers possess some similar skills, but the former has a much wider spectrum of roles. While an average UI designer is concentrated only on creating a user interface, a web designer is focused on the whole project and is not restricted in his or her duties. This aspect is especially noticeable if to look at the technical background of both. 
For instance, a UI designer should know the peculiarities, possibilities, and limitations of the programming language that is being used in order to effectively build interfaces. Web designers, in turn, not only know how the programming languages work, but can also directly use them to create web products. The majority of web designers are proficient in at least in HTML, which allows them to create simple pages. Many can also work with CSS style sheet language, scripting languages like Javascript, or framework for writing rich Internet applications like Microsoft Silverlight. 
Some of these technologies have a steep learning curve and some don't, but each of them requires a well-trained skill and firm knowledge. In modern web development, UI designers focus on improving specifically in their niche, while the front-end developers cope with everything else.
Is It UI Designer vs UX Designer or UI Designer + UX Designer?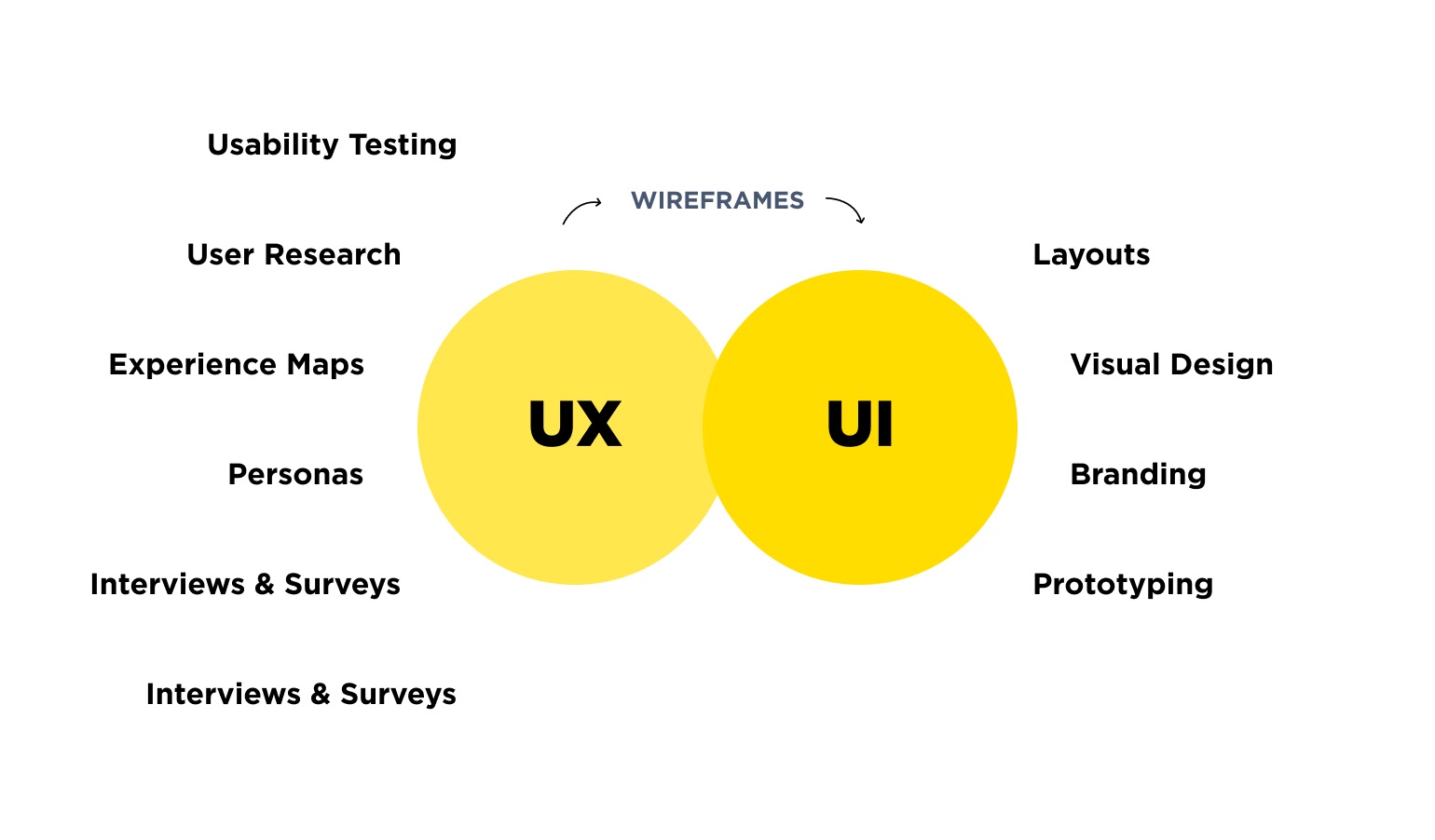 Here is one more important thing to understand, there should not be such a thing as choosing between this one or that one, or "UX vs UI design," since both are essential to create a successful product. Though UI designers and UX designers possess different skills and perform quite different tasks, their performance is directly connected and even relies on one another. Here is a simple example — even the most beautiful and appealing user interface will inevitably fail if the navigation is terrible and human-computer interaction is difficult. Obviously, the same failure occurs when a product is well-designed from a UX perspective but looks like a website from a past decade. It is always UX Design + UI Design since they work hand in hand; it is UI UX web design. 
In most cases, UX and UI designers work closely together. During this collaboration, the former decides how an interface of a website or app will work: what is the structure and content organization, how the buttons and clickable items navigate users through the interaction, where to put the most essential elements to make users notice them. They conduct Usability Testing, User Research, Experience Maps, Personas, and Interviews & Surveys and prepare Wireframes using their findings.
A UI design team, in turn, should come up with an idea of how to visually implement the plan. They decide how the interactive elements and content will appear on the screen and aim to satisfy the aesthetic needs of users. UI designers use Wireframes to prepare Layouts and Visual Design, realize Branding, and to ultimately create a clickable prototype that can later be used by the development team. 
Whenever your business starts to grow and begins to offer new services or products, you will definitely face the need of changing your current website or/and app. Be it a new service page or another button on the landing, either the navigation and aesthetics might suffer if there is no effective communication and cooperation between your UI and UX designers. Changing even a small element can harm the whole structure, and the need for both UX and UI design remains strong as long as your website or app is going to improve.
If your target is to create not only a beautiful but also useful software product, then you should pay tribute to both of these design directions. Any modern design ought to be well-polished both from UI and UX perspectives.
Wrapping Up
Now you should know the difference between a web designer and UI/UX designer. You know that UX design focuses on users' feelings and tries to come up with a structure and navigation that will promote human-computer interaction and satisfy users' needs. The UX design is meant to foresee and solve problems that might occur when a user interacts with a software program. UI design, in turn, deals with visual representation and aesthetics; its goal is to turn the UX ideals into appealing reality. Though you can decide whether UX or UI design is of greater priority for your project, they both are important as they complement each other. And there is also a web design that partially includes both of these directions and goes even further, covering other aspects of web development. At the same time, however, web design covers many aspects only superficially, without in-depth understanding and research findings. 
If you want to start a project and consider whether to hire web designers or UI/UX designers, then I don't have a direct answer for you right now since it is individual for every project. Both web design and UI/UX design are good for specific cases. It is not about "UX designer vs web designer" or "UI designer vs web developer", it is about your needs and priorities. 
That is why you should better contact our management team and tell more about the project, so we would be able to provide you with the best development advice.