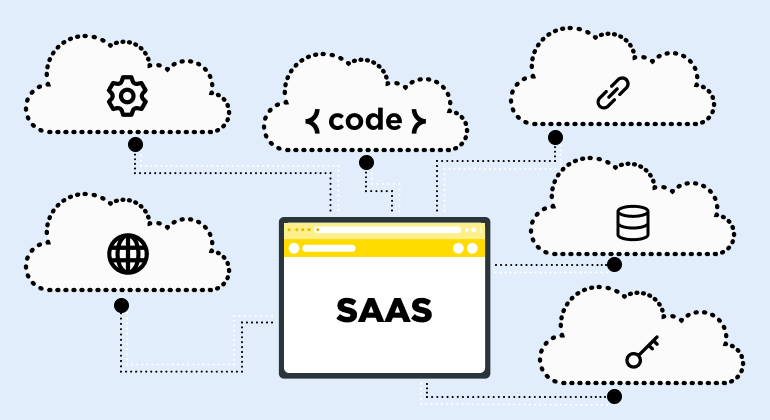 Designing SaaS Applications
SaaS application creation has already proven to be a remarkably productive approach, which is why millions of companies rely on it today. Various entrepreneurs choose it for the convenience and speed of using ready solutions instead of developing them on-premise. 
However, it is not always as simple as it seems to design a SaaS application and find an agency that fulfills all your wishes and provides services on a level that suits you. Let us research this issue: how to build a SaaS application and what it should look like as a result.
The Main Characteristics of SaaS Products
The main question is, what is a SaaS app? The abbreviation means software-as-a-service, which is basically a business model using a cloud-based solution instead of relying on a server. It operates previously created software that clients get and use however they wish. 
This possibility to avoid servers and hardware has a great budgeting potential as it allows you to eliminate these expenses. As a client, you get the software you need without having to worry about maintaining it or keeping your data safe.
What Products are SaaS Apps?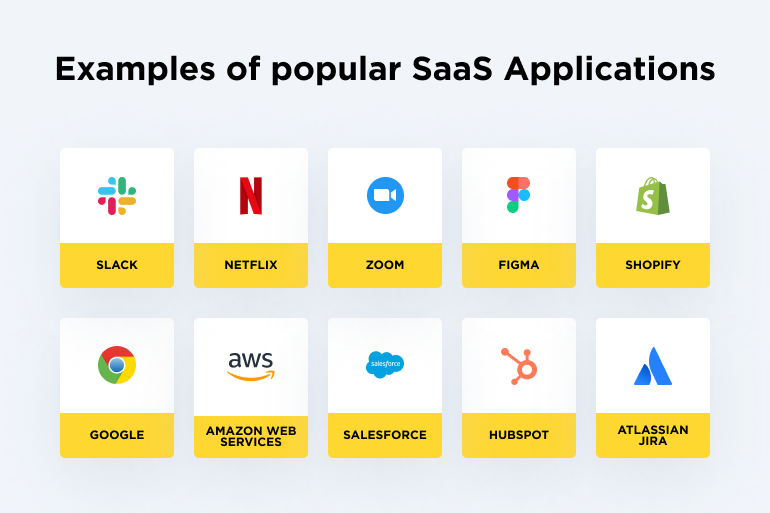 Even if you think you have never encountered SaaS applications before, you must have worked with them. Some have reached massive popularity. These are examples you might have worked with: Slack, Netflix, Zoom, Figma, Shopify, Google, Amazon web services, etc.
Why Use SaaS?
Besides the advantages that have been mentioned earlier, SaaS also brings other benefits.
1. Rapid Implementation
Once you decide to start using SaaS, you can do it very quickly. Installation is conducted via a cloud and, therefore, does not take much time or effort.
2. Cheap Solutions
Instead of spending time and money on countless licenses that are required if you want in-house solutions, SaaS allows you to work with nothing more but a subscription model.
3. Easy Improvements
Getting the latest version with all the possible improvements does not require extra payments or extra effort.
4. Custom Approach
You can choose the type of subscription that suits you best depending on your specific needs and the amount of money you want to invest.
Which Traits Should a SaaS Application Have?
As well as any kind of software, these applications have to function well, first of all. This can be ensured with a thought-through SaaS application development system and a well-conducted design of SaaS applications. Let us take a closer look at the technical and non-technical aspects of these characteristics.
Technical Aspects
There is a number of qualities a SaaS application must have in order to operate properly and give the best results:
Diversity
Availability
Customization
Platform Independence
Scalability and speed
Database capacities
Constant improvements
Working with third-party integration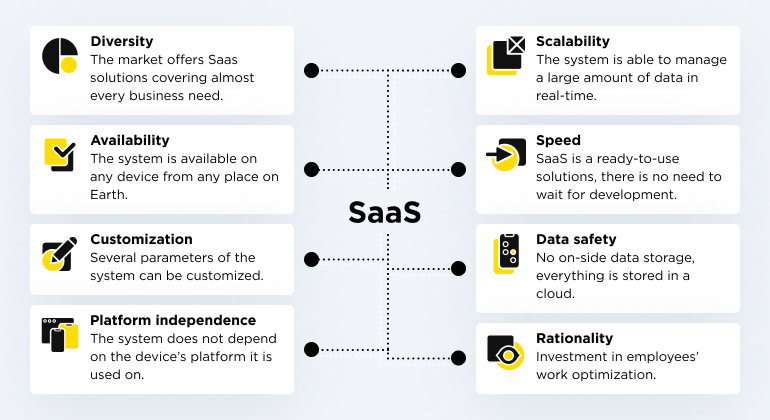 Non-technical Aspects
Of course, technology is not all, and business is also highly dependent on other issues. These are two characteristics that a SaaS app can not be successful without:
Demand
It is very important to  conduct thorough market research  before launching a new product. You have to make sure that it will be well received. Basically, this means analyzing clients' requests and looking for alternatives in the existing market. 
If you do not find enough evidence of customer demand, it may be easier to look for new ideas instead of launching a product that is doomed for failure.
Accessibility
You should always be sure that your app is accessible in all the existing ways: it must be understandable, easy to use, and affordable. If one of these factors is missing, you might risk losing—your customers' loyalty. Always putting your users' comfort first  has always been the ultimate strategy for all sorts of software.
What Does The Process of Development Look Like?
We have already defined that building a SaaS product  properly is really important. Let us now look at this process little by little to understand what pitfalls can be avoided and how to build SaaS applications.
1. Analyzing demand
As we have mentioned earlier, deciding if now is a good time and place for your application is the first step you should take . Are there similar products on the market? Do users need it? Clarify these issues before you move on with your idea.
2. Planning
You must have a clear plan when launching a business project. Software development is no exception — plan your goals, and decide how to develop SaaS applications, time frames, expanses, and management solutions before you go further.
3. Decision making
You have to make clear decisions about your application and the additional features it needs. Create a list of requirements and use it to make sure you have not lost track. Remember that there are some core features that must be included in all applications of this type.
4. Make technical decisions
Your product may vary drastically depending on the tech stack and tools you use. If you have no former experience in this area, consider looking for feedback and learning as much as possible about various approaches before you make a conclusive decision. You may look through the list of technologies , that are used by the world's famous organizations.
5. Finding the best professionals to work with
Creating a proper development team  is actually 50% of success already. You need to work with people who have more than just a set of required skills — they must share your values and vision. Besides a designer, you also need a business analyst, a project manager, a QA, and a few software developers.
The Steps of SaaS Development
Naturally, design and SaaS application development are integral parts of any application production. Let us now describe every step you must take when wanting to develop a SaaS application properly and how to design a SaaS application.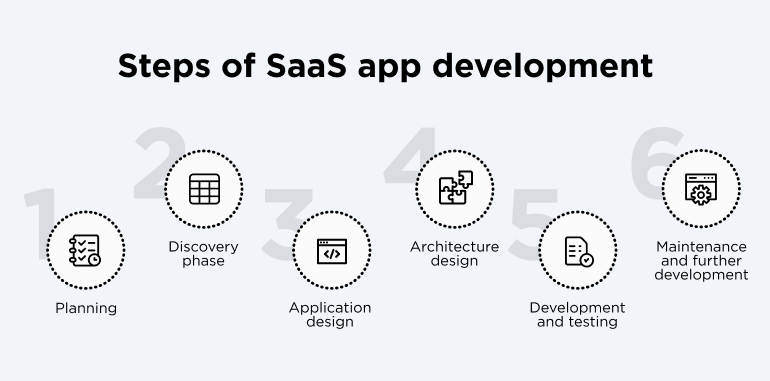 Architecture
Engineering an app architecture is the core of all your further actions. It also takes a lot of time and expertise to conduct. 
Application Design
The design of SaaS applications ensures that your app is stable and operates well. You need to make a lot of important decisions at this stage, such as applying single-tenant or multi-tenant architecture. While both have their advantages, the main difference is that while the former fits big clients and grants them unique access to their personal server, the latter does the opposite and gives shared access to smaller clients that do not need a separate server.
How to design a SaaS application? Once you have made this decision, you need to move on to choosing the technical stack that defines the future of your application. You can focus on factors such as price, rapidity, stability, etc.
Partition
Partition is the design process of separating different pieces of information and storing them in different partitions. This is done in order to prevent database overloads, secure your data and ensure a higher level of flexibility. Depending on your requirements, you can opt for various kinds of partition approaches: functional, vertical, or horizontal.
Deployment
Most companies choose automated deployment as it is highly efficient and much cheaper. It also offers precise information about your operation. Basically, the deployment stage of application development is responsible for making sure that all processes run smoothly. Constant improvements and updates make your application effective and attractive. 
QA Testing
Testing your software is an integral part of understanding how to develop SaaS applications. It helps you comprehend whether the goals you have initially set for your project have been met and guarantee that your application users will be happy with your application.
Testers do more than simply look for bugs — they also see some details that may influence user experience and allow you to fix them before the product is released. 
Maintenance
Once the product is ready, it must be managed well and constantly monitored. However easy this may seem, maintenance is actually one of the most important aspects when creating a SaaS application, which requires a lot of effort.
Optimization
This stage allows you to see what processes could be optimized in order to be more effective, faster, or cheaper. There are certain things you must do at this stage:
figure out how your budget can be optimized
find ways for time management optimization
look for ways to improve general performance
make sure that you have enough database capacity
There is always space for improvement. Monitoring this aspect allows you to improve the quality while decreasing your expenses.
Cloud solutions
We have already mentioned that cloud platforms have a lot of benefits that make them easier to use and more lucrative than in-house solutions. Therefore, even if you started working on your project on-premise, it is necessary to switch it to a cloud eventually. 
The Price Of SaaS Applications
Unfortunately, it is impossible to calculate the average price of creating SaaS apps that would work in every country. The answer depends on many issues, including the complexity of your project and the number of people who work on it.
Different countries have different salaries for engineers, so the price will vary drastically depending on where you are. For example, in the USA, you would pay around $57 for an hour of senior developer labor, whereas in the UK, it would cost you $70. It is very popular to hire specialists from Ukraine as the average price is only $40, while the quality and speed of work are not compromised. 
It is wise to look for cheaper options, as it allows you to hire as many professionals as you need and worry about the quality of the product, not the amount of money you will have to pay.
Ready to build your SaaS product?
Contact our team and get a free development plan for your future project
contact us
Bottom Line
Using the SaaS model has a great number of benefits for your business and is relatively simple in implementation. The developing process is relatively easy if you follow all the steps we have mentioned above. Remember that you need to start by researching the market and creating a business plan. If you need help, it is very important to find a reliable SaaS software service provider that you can trust. 
FAQ
You can pay attention to the experience a company has acquired and the values they have. You also have an opportunity to read feedback from their former clients. If you want to save money, try looking for a development company in Eastern Europe.
Why should I opt for multi-tenant architecture?
It is not as expensive and not as complicated as the other option, and you can easily manage it even if your project is still small and new.
How long is the process of developing a cloud-based app?
Depending on how ambitious and complex your project is, it might take somewhere between two and ten months to develop a SaaS application. 
Why do I need to conduct market analysis?
It is essential to make sure that your product will be well-received before you launch it. The market analysis allows you to eliminate the risks and gives you an opportunity to add features that may attract users. 
What is the price of a SaaS app?
Depending on how ambitious and complex your project is, it might have different SaaS application development and maintenance costs. The price also depends on the salary of experts in different countries. For example, developers in the UK charge twice as much as developers in Ukraine. Additionally, when calculating the price, you must know which tech stack will be used.
Where do I start when creating a SaaS app?
You need to start by conducting a thorough market analysis to make sure that there is demand for an app you want to launch. It is also important to make a clear business plan before taking any other actions.