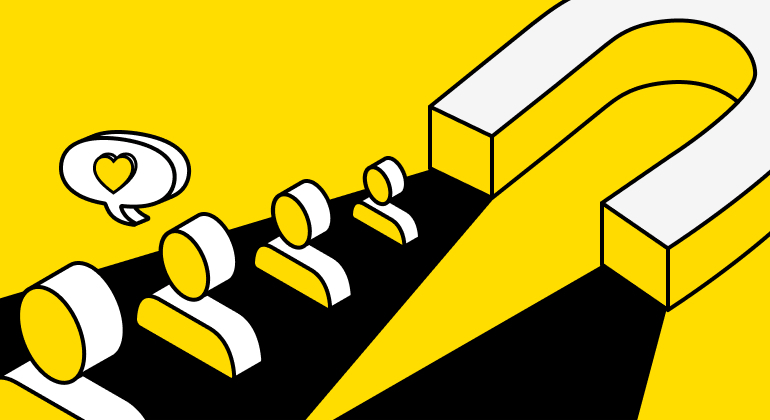 Today, let's talk about customer engagement platforms and why modern businesses need them to survive the competition. Follow me.
What Is Today's Customer Engagement Platform Development?
Modern customer engagement platform development is expanding its influence and possible ways of interacting with customers. Today they cover all the classic CRM functions and take advantage of the opportunities provided by social networks, mobile applications, various self-service portals, and so on. Customer engagement platforms allow companies to integrate internal resources with external marketing tools, which allows for a deeper understanding and better customer satisfaction.
As the Internet becomes more and more important to business development, many companies are considering using it to reduce service costs, strengthen customer relationships, and personalize advertising messages. Therefore, the goal of introducing customer engagement platforms in companies, as a rule, is to retain customers, increase their loyalty and satisfaction. For companies that provide their services and products via the Internet, customer loyalty is one of the most important factors, because retaining an existing customer is cheaper than attracting a new one, and with a customer engagement platform it is even cheaper.
How Customer Engagement Platforms Improve the Overall Customer Experience
Customer engagement platforms make the connection between the company and its customers much closer and stronger, which benefits both parties alike. The customer engagement software makes it much easier for a user to engage with a company and get a daily dose of support and attention. This includes exciting ways of interaction with a brand,  handy recommendations available on the platform, answers/solutions to common yet urgent problems, and constant customer support across all channels of communication. 
If properly used, customer engagement software can help your company win customers' trust and loyalty since it offers a personalized experience through fast interaction of their choice. Moreover, it allows your teams to come up with unique and interesting customer journeys and automate the major part of the customer engagement process. 
Why Are Customer Engagement Platforms Crucial for Modern Revenue Teams?
Customer Engagement Platform offers considerable benefits to revenue teams by driving more effective revenue growth. 
Customers are willing to part with their money only if you can offer the best service and/or product. In order to be eligible to create such an offer, the company should be ready to invest a substantial amount of resources into R&D and hire skillful customer-facing reps. However, it does not seem to be quite an effective way of spending your resources if there is such a convenient alternative.
Customer engagement platforms are able to enhance your company with its data-driven customer process. It will open you the way to many new possibilities: 
Actualize and execute measures that serve every single customer scenario

Measure the results of each cycle for all customer scenarios

See how those results legitimately sway income, instead of only knowing intermediary metrics.
Moreover, such technologies as machine learning and data science allow for understanding customer interaction on a far more in-depth level. Actionable analytics can provide your teams with detailed and comprehensive information regarding processes that drive revenue lift. This will help teams understand which activities are the most effective in terms of revenue lift and vice versa.
Features of a Customer Engagement Platform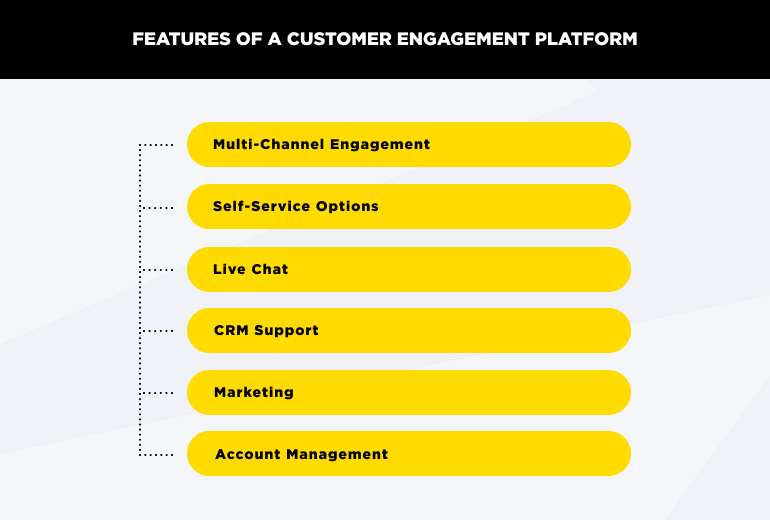 Customer engagement platforms can offer numerous helpful features that will facilitate and enhance the interaction between companies and their customers. A well-done customer engagement software ought to provide the following features:
Multi-Channel Engagement
As a rule, companies engage and communicate with customers across various different channels, including social media, email, chat, and so on. A customer engagement platform, in turn, should be able to integrate all of them and improve their efficiency, thus helping in the marketing effort of a company.
Self-Service Options
Whenever a customer encounters a problem, the most common solution that comes to my mind is addressing the customer support center with the issue, right? However, there are many customers who feel uncomfortable contacting support employees or they simply want to do it by themselves and not waste time talking. That is why self-service options are crucial. If you provide customers with the possibility to solve their issues by themselves you not only increase their satisfaction but also save resources of your business.
Live Chat
Live chats are one of the most effective ways how you can interact with customers and vice versa. Even based on my personal customer experience, I can say that I would rather prefer live chat to phone calls or other ways of interaction. It allows for multitasking — you can write a problem to the chat and continue doing other things while waiting for a response, and this actually facilitates the interaction with a brand.
CRM Support
The customer relationship management (CRM) must be integrated into the engagement platform since it allows for an effective management of the sales pipeline. With an integrated CRM, companies are able to foresee customer expectations and create a better customer experience during the selling phase. 
Marketing
A customer engagement platform can significantly improve the marketing activities of your company. It allows collecting data based on customer interactions and offering them services and products that are really interesting for them. The platform is vital for marketers to understand what customers need and be able to give them the desired solution.
Account Management
A well-done customer engagement software allows the company to easily manage customer accounts, where the team can review and analyze customer interaction and view pages to better understand the way users behave and come up with a good offer.
Choosing a Customer Engagement Platform
If you are interested in customer relationship management (CRM), you should consider several specific criteria when choosing a customer engagement platform. For instance, it is easy enough to set it up and use it, is there a possibility to connect it to other systems used by your company, does it have advanced customization options that provide a decent degree of personalized customer experience. Besides, make sure that the solution you are going to implement is cost-effective and scalable. 
Final Words
OTAKOYI has been creating high-quality software since 2011, and we know how customer engagement platforms changed through the years and what they are now. Make sure to check our customer engagement platform case study and see by yourself how a good solution looks like.
Our customer engagement platform development services are popular not only for a good price-quality ratio but also for our dedication and passion for what we are doing. If you already decided that you want the highest-quality customer engagement platform, contact our team right away.