Empowering your eCommerce business with PWA solutions
Progressive Web Apps is an up-and-coming game-changing technology that transformed the eCommerce industry. Global giants like Walmart, Alibaba, and Trivago successfully adopted PWA in their business. Yet, small and middle enterprises can benefit from implementing eCommerce PWA solutions. Read on to discover how Progressive Web App can empower your online store for growth and success. 
PWA for eCommerce business
Cell phones are tied to every aspect of our life, influencing our habits and transforming the way we shop. Modern consumers demand engaging user experience, quick access to knowledge or services, and fast page loading. Thankfully, progressive web apps check all those boxes with a mobile-first approach and flawless performance. 
Business gets an immersive native app experience, enhanced convenience, and improved accessibility by creating a PWA store. Let's learn what exactly PWA is and how to benefit from integrating such progressive solutions into your eCommerce business.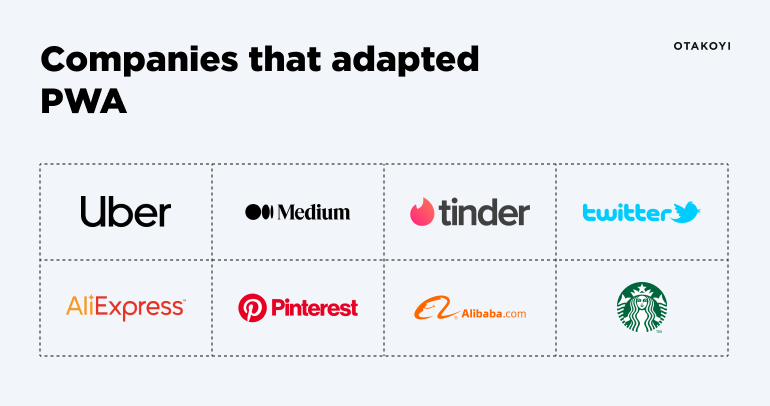 Progressive Web App: What is it? 
PWA, or Progressive Web App, is a web application that provides a native app experience by exploiting the latest web capabilities. Such technology has the power to replace web and native apps by uniting top features and enhancing user experience. But what does it look like on your phone? At its core, PWA is: 
A website that operates and looks like a native app; 
Can be added on the phone home screen and send notifications; 
The web app works offline. 
Here are three reasons why PWA for eCommerce is a must-have. 
Accelerated speed
We all experienced frustration by shopping through websites with extremely slow load times. The math here is easy: a slow online store equals low conversions. However, progressive web apps are incredibly fast, providing users with a smooth shopping experience. 
The report states that web platforms losing within 5 seconds have 25% higher ad viewability, 35% higher bounce rate, and 70% longer on-site sessions. 
Enhanced reliability
Shopping from smartphones cannot always be reliable. Your online actions are limited whenever you're on the move or in an area with the poor network coverage. PWA is a solution to keep the merchant connected to the customer and make shopping accessible even offline. 
Highly Engaging
Unlike regular eCommerce websites, progressive web apps provide an engaging experience by appearing on the smartphone home screen and sending push notifications.
10 ways eCommerce stores benefit from PWA solutions 
PWA for eCommerce elevates the buying experience for users and provides businesses with countless benefits, including higher conversions across browsers, secure payments, and more.
High marketing outreach
PWA is a web-based solution meaning it gets rated by search engines, unlike native apps. Luckily, PWA's main features are boosters for search engine optimization, leading to platforms' improved visibility and discoverability. Therefore, adopting a progressive web app approach can help connect your brand with the targeted audience and straighten your marketing strategies. 
Closing the gap between merchants and customers
All modern business wants to stay connected to their customers by offering mobile applications to keep clients hooked to the services or product. However, an excessive amount of apps influence the performance quality and speed of smartphones, clogging the phone. The current mobile user trend is to minimize apps on the phone and switch to web solutions. PWA store meets all users' demands and can keep your eCommerce brand connected to the customers without clogging their personal devices. 
Time and cost-efficient solution
Creating an eCommerce platform is a time and money-consuming process. However, PWA's architecture is based on reusable codes, significantly decreasing the time developers spend on crafting a product and development costs.  PWA is an excellent solution to boost your time to market and get a high-quality app. 
No Store deployment scopes and automatic updates
One of the benefits of integrating PWA into your business is the easy launching process. There is no need to deal with app store fees, regulations, and conditions. As soon as your PWA is market-ready, you can launch it. However, the progressive web app is still visible in the app stores due to powerful SEO. 
Another PWAs key feature that makes businesses happy is automatic updates that guarantee flawless performance for an end-user. 
No-expertise-needed maintenance
Any native app requires supervision and professional support to introduce updates and bug fixes, meaning long-term partnership with an expert development team and an extra maintenance budget. Yet, with PWA, you don't have to worry about such things.
Saves data and storage
The users prefer Progressive web apps as it works offline, saving user data usage and taking minimum space in the smartphone storage. When a regular native app takes at least 50MB in the phone's memory, the PWA occupies only a few MB. With progressive technology, you can build an extended customer base of a loyal audience.
Increased user conversion rates
What makes the conversion rate drop with a native eCommerce app approach? The additional step of installing the app is to start the shopping journey. Many leads will stop engaging with your brand, avoiding the hustle. However, PWA provides an app-like interactive experience and introduces engaging push notifications to keep users in synch with your platform. 
Offline functionality guarantee
One of the core PWA's features is the ability to operate in offline mode, which is archived through integrated service workers. A service worker is a JavaScript file that runs in the web page's background separately from the page itself. They can intercept network requests and perform actions based on those requests. It enables PWAs to provide functionality without an Internet connection because service workers can use caching to store resources locally and serve them to the web page of a mobile browser, even when the device is offline.
Secure payments
PWA brings security to the check-out process through integrated Payment Request API. Therefore, you can guarantee safe online shopping and immediate purchase payments in your online store. 
Impressive responsiveness
Responsive web design is a feature that will guarantee an increase in conversion rates. PWA's responsive layout adapts to any device, resolution, size, and browser, providing an impressive native application experience to all online users. 
Ready to build your eCommerce platform?
Contact our team and receive an individual approach plan for your future project
Contact us
Popular ready-to-use eCommerce PWA solutions
Using ready-to-use PWA eCommerce solutions is the best way to boost your time-to-market. Let's see how you can create a cost-efficient progressive web app.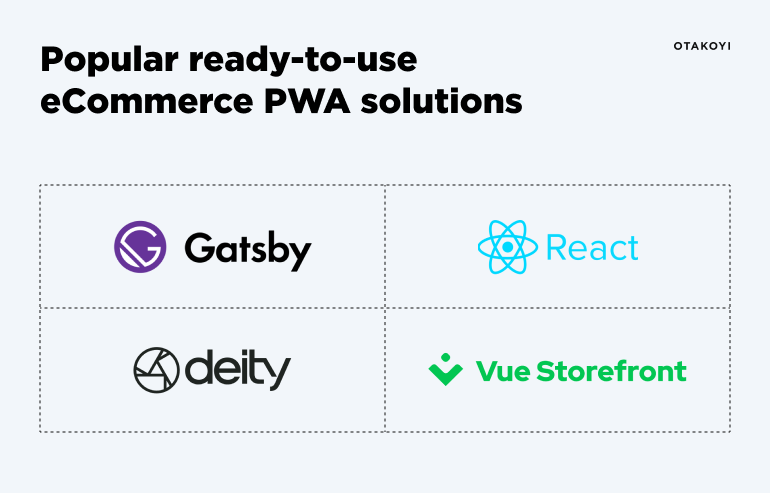 Gatsby
Gatsby is a top-choice framework among the developers' community that allows for building Reach websites. With Gatsby, you can create lightning-fast progressive web apps in a blink of an eye.
Deity
Micro-service-orientated platform Deity takes a modular approach to solve enterprise PWA challenges. Deity provides a native-like eCommerce site and works with various front-ends. 
React
React is best suited to crafting outstanding user interface designs. Developers use React to deliver engaging and responsive web experiences for desktop and mobile. 
Vue Storefront
Vue Storefront grasped the attention of the developers' community. The fast-growing PWA platform works with any online store website type and solves eCommerce business needs.
Inspiring PWA examples
Nothing speaks louder of technology success than numbers and real-life PWA eCommerce examples.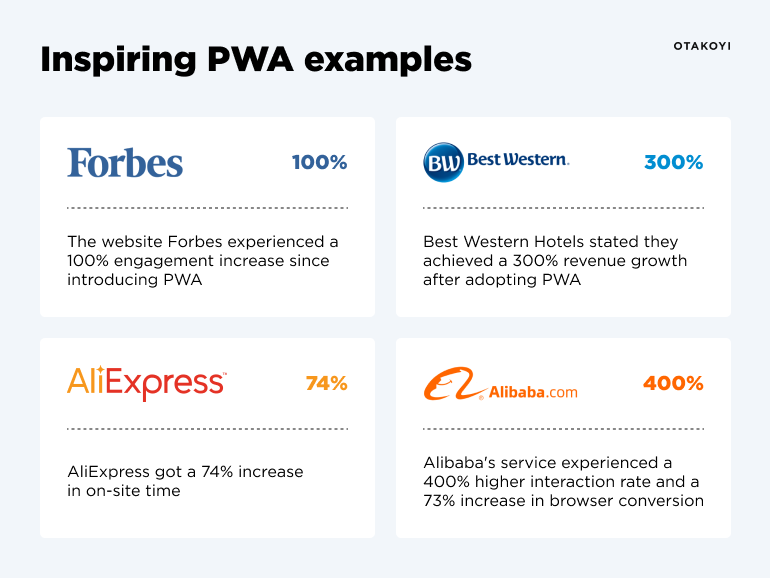 The website Forbes experienced a 100% engagement increase since introducing PWA; 

Best Western Hotels stated they achieved a 300% revenue growth after adopting PWA; 

AliExpress got a 74% increase in on-site time; 

Alibaba's service experienced a 400% higher interaction rate and a 73% increase in browser conversion. 
Does your business need PWA?
If you're still wondering: "Should I build PWA for eCommerce?"  the answer is Yes. Any brand that sells services or products online will benefit from progressive technology. The global examples and market trends showcase that now is the right time to integrate the eCommerce PWA approach for any retail business. PWA tackles numerous challenges and empowers businesses to open doors to a new-era shopping experience.
PWAs are an excellent option for shops that want to provide online users with a seamless and consistent experience across devices and platforms. PWA is a solution for brands wishing to reach users who may not have access to the app store (e.g. because they are using an unsupported device or operating system).