How to Create a Marketplace In 2023? Updated Step-by-step Guide 
Are you waiting for a sign to build a niche or global online marketplace? 
Take a look at this: According to Forrester, 60% of world e-commerce sales come from marketplace platforms. 
The interest in online shopping has spiked since the global pandemic of 2020. Millions of users find the digital approach more convenient and efficient. The question you might have is how to create a marketplace website competitive with the world-largest Amazon. Our expert guide reveals all you need to know about building a marketplace, selecting the right strategy, generating online sales, and reaching success. 
Online marketplace: What is it?
Back in 2020, Forrester revealed that one-third of all the USA business flows through e-commerce channels, and 63% of that is through marketplace websites! According to Statista, the number of online buyers is set to overgrow the 2.1 billion mark this year. So, what makes marketplaces so popular, and how are they different from the online store? 
An online marketplace is a digital eCommerce platform  where buyers and sellers can trade goods and services. The marketplace acts as an intermediary between the two parties, facilitating transactions, handling payment processing, and resolving disputes. Online marketplace range in size and scope, from small niche site specializing in a unique type of product and service to multi-category complex solution that serves millions of buyers worldwide. 
The marketplace websites and apps stand out with amazing and efficient shopping experiences. Marketplaces offer a convenient and effective way for businesses to reach a large audience and build brand reputation. On the other hand, consumers enjoy access variety of products and services from the conform of their own homes on the go. Some popular examples of online marketplaces feature Amazon, Etsy, and eBay. Read on to discover how to create an online marketplace like Amazon and why you should invest in this multi-vendor eCommerce solution. 
Reasons to Build a Marketplace in 2023
Online marketplaces bring convenience for all parties involved. Let's agree that going to the mall is much more efficient than driving around the city, trying to buy everything on the wishlist. The Marketplace website offers buyers various products or services, connects people with small businesses and local professionals, and guarantees a secure shopping experience. 
At the same time, sellers can quickly grow their business, raise brand awareness and discoverability, and attract a diverse customer base. 
The only question left is what's in it for a business owner. Why should you invest your money and resources in an online marketplace? Let's focus on four main reasons you should create a marketplace website.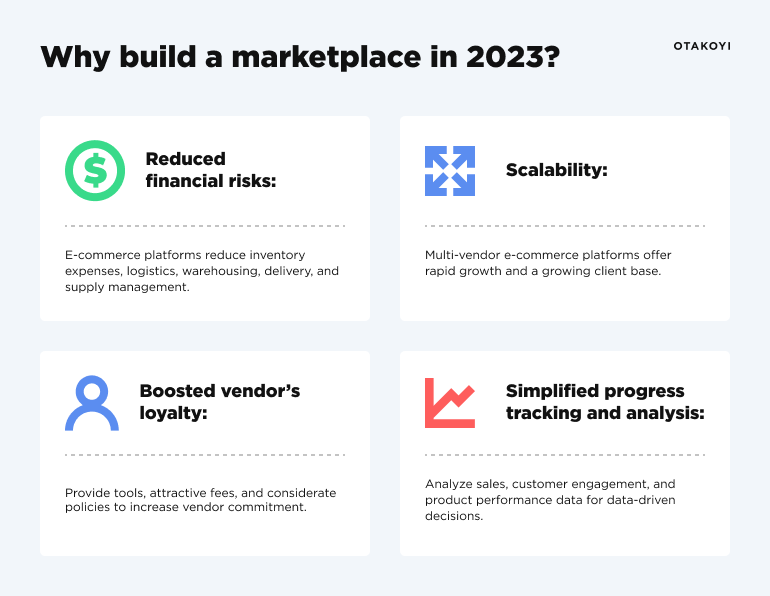 Reduced financial risks
One of the biggest concerns for a retail-related startup is funding. However, with an e-commerce platform, you don't have to worry about inventory expenses. Creating an online marketplace takes away the headache of logistics, warehousing, delivery, and supply management. As a business owner, you don't actually sell products or services. You provide a secure space for other businesses and sellers to connect with buyers. Therefore, you invest less than if you build an online store rather than just sell physical objects and get returns on investment in the shortest time. 
Scalability
One of the reasons to create a multi-vendor e-commerce platform is guaranteed rapid growth. A professionally-made marketplace offers outstanding scalability, growing alongside your business. A top-quality marketplace website naturally increases customer acquisition and the client base. Moreover, the non-stop growing user flow encourages more companies and sellers to join the platform. 
Boosted vendor's loyalty
Vendor loyalty refers to the level of commitment, and trust sellers have toward the marketplace as a sales channel. As a business owner, you can influence it by boosting customer experience, providing sellers with various tools, offering attractive fees, and implementing considering policies. High vendor loyalty can lead to a long-term, successful relationship between the marketplace and the seller, resulting in increased sales and high profitability for both parties.
Simplified progress tracking and analysis
Online marketplaces typically provide a range of tools and metrics to help sellers and business owners track their progress, including sales reports, customer feedback, and product performance data. Companies or independent sellers can easily analyze their sales and customer engagement, identify which products are rated high, and make data-driven decisions about pricing and marketing strategies with progress-tracking tools.
Some marketplace websites offer data visualization tools like real-time sales dashboards and trend analysis for advanced analysis. Such streamlined solutions help business analysts gain a deeper understanding of business performance, letting them focus on growth strategies. 
Building an online marketplace from scratch: Step-by-step guide from OTAKOYI
Knowing the development process from the inside is vital to deliver a market-competitive product. Let's find out how to create a marketplace website, organize the planning stage, and build communication with the development team. 
Stage 1. Select the marketplace type for your business
The first step for any software development is background work, meaning understanding your target audience, choosing the marketplace type, and selecting the monetization model. No matter your initial idea, whether it's an NFT marketplace development or a platform for sustainable shopping, you have to pick the right marketplace type to determine further business directories.
Online marketplaces' classification
Let's take a closer look at how marketplaces range and are classified by participants, focus, and offered services.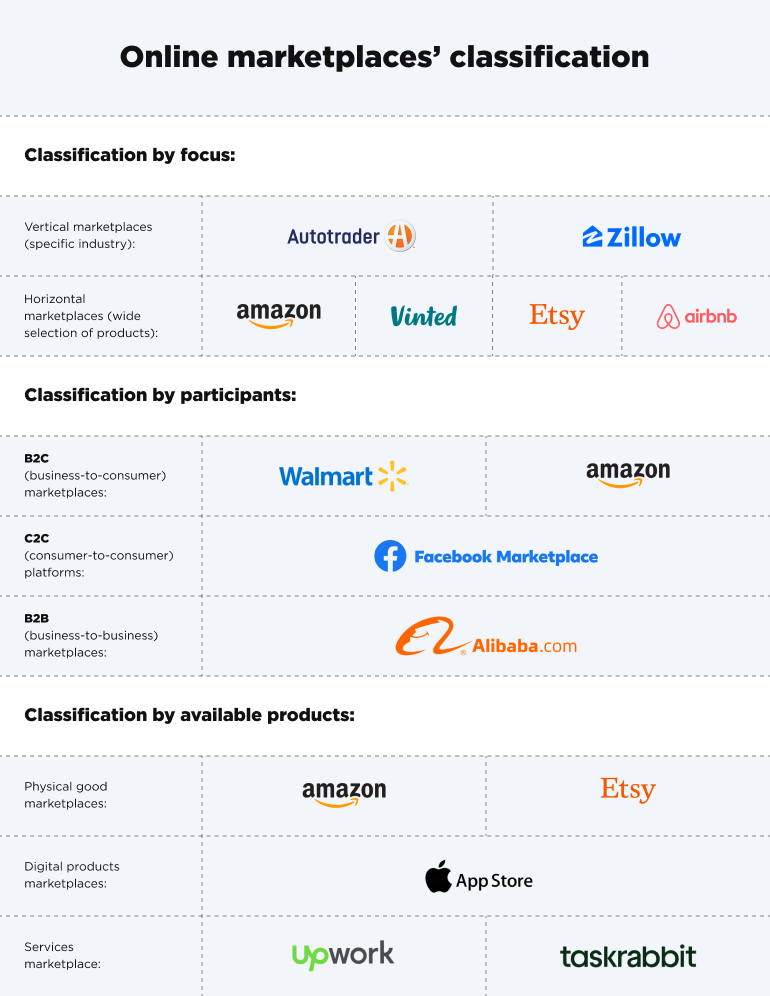 Classification by focus: 
Vertical marketplaces. The websites target a specific industry, such as real estate  (Zillow) or automobiles (Autotrader); 
Classification by participants: 
B2C (business-to-consumer) marketplaces: where companies sell products directly to consumers, such as Walmart  or Amazon ;
C2C (consumer-to-consumer) platforms: where individuals can buy and sell items, products, or services, for example, Facebook marketplace;
B2B (business-to-business) marketplaces: such platforms connect different companies so they can buy or sell products and services to each other, like Alibaba . 
Classification by available products: 
Physical good marketplaces. Such websites sell products and items you can touch and feel, like clothes, electronics, accessories, food, books, beauty care, etc. For example, Amazon or Etsy; 
Digital products marketplaces: Platforms that sell software, music, NFTs, and other digital goods. The best example is Apple's App Store.
Services marketplace: Website to sell freelance creative or technical work, home-related services, or beauty services, such as Upwork  and TaskRabbit . 
Stage 2. Discovery phase
The goal of the discovery phase is to validate the marketplace idea , determine project viability, and define the scope of work, business goals, and requirements for further development. Some startups mistakenly skip the project discovery, believing they're wasting time. On the contrary, the discovery phase allows you to connect with the target audience, understand their needs align your business requirements with real-user expectations, and validate the concept.
Stage 3. Create a project documentation
During the third stage, business owners work with their development team to create blueprints for marketplace website development.  You can simplify the further development life cycle and communicate clearly with every crew member by putting everything on paper. The project documentation includes technical specifications, such as selected tech stack, number of features and their complexity, design, planned-out third-parties integrations, etc. 
The project documentation goal is to eliminate any misunderstandings between clients, project managers, and developers to help the software development company deliver high-quality results. 
Stage 4. Complete UX analysis of the user interface
Why do people prefer one marketplace over another? Outstanding user experience and easy-to-navigate user interface design! If you want to boost your sales and secure a position on the market, you should conduct a complex UX analysis  with an experienced design team. That will help you build empathy for the target user's desires , needs, opinions, and overall shopping experience . Evaluate your concept and competitors' platforms  to see the common mistakes or complaints and build your UX design to tackle each user's pain points. 
Stage 5. Verify basic functionality set
Let's take time to talk about what features are a must-have for any type of online marketplace. 
Simplified and secure singing-in process. Avoid creating a multi-step sign-in. Instead, offer a potential customer option to register through Facebook, Apple ID, Google, etc. 
Advanced search with various filters makes online shopping on multi-vendor platforms more efficient. Categories, subcategories, and autocomplete search features boost user experience and help online buyers find desired goods or services much faster. 
Dashboards for each seller. Dashboard tools allow sellers to track their inventory, shipping, ratings, and profit in one place, making their work more efficient. 
Multiple payment getaway options and an easy checkout process improve conversion rates and allow marketplace work in the global arena. 
Item page. The product page should be informative, providing various photos, characteristics, availability, shipping details, etc. 
Customer reviews. Rating and reviews help buyers navigate the marketplace, find trustworthy vendors, and purchase good-quality items.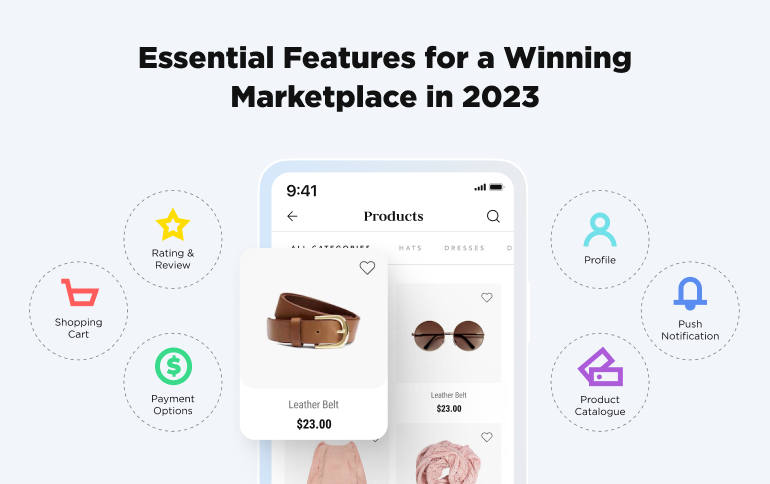 Mind-blowing features to include to create a competitive marketplace website 
What makes one marketplace stand out among dozens of other websites? Mind-blowing functionality. Implementing advanced features can help you grow organically and stay ahead of the curve on the market.
Based on our experience, we recommend introducing the following features to sweep users off their feet. 
Real-time chat and messaging: Chatting builds a better connection between buyers and sellers, improves sales and reviews, and lets customers learn additional information about the service, business, or item they're interested in. 
Multiple language support: Offering support for various languages can help you reach a wider audience and expand your customer base.
Customizable storefronts: Providing customizable storefronts allows sellers to create a unique brand identity and stand out in the marketplace.
Mobile responsiveness: Being mobile-friendly is a must-have feature to engage smartphone users and provide them with efficient online shopping on the go. 
Augmented reality: AR assists potential buyers with interactive visualization of how the product would fit in the real place, stimulating a desire to buy.
Stage 6. Develop an MVP model
A minimum viable product is the first step to bringing the marketplace idea to a real-life operating product. Unlike proof of concept or prototype, MVP is a market-ready version of your marketplace  limited by basic features. The benefit of implementing MVP  is getting feedback from a potential user, validating how your marketplace works in real life, and measuring customer satisfaction. MVP allows you to minimize the financial risks of launching an optimized or flawed final product. 
Another advantage of the MVP model is its ability to profit from it while still working on the full-scale version. As soon as you've analyzed the results of MVP performance and implemented changes and updates, you can trust your developers to create an online marketplace that will conquer the online shopping industry.
Stage 7. Final product release
The development process comes to an end with the launching of a robust marketplace website. After testing the MVP in real-life users and validating the quality assurance, you're all set to go. The development team is usually in charge of technical aspects of the release, like deploying apps to the chosen platforms, providing maintenance services, and technically supporting the product long-term.
Stage 8: Grow your marketplace business
The last development stage focuses on how you grow your business, keep high conversion rates, and find new ways to generate more quality leads. With an online marketplace business, the work never stops. It's vital to keep your head in the game, constantly brainstorming new ways to improve your platforms and keep up with the latest online shopping trends. 
There are three things you should focus on while building a long-term business growth strategy:  alternative payment gateway solutions, advertising modules, and SEO tools. Let's dive deeper into each aspect.
Explore payment solutions
The online marketplace can offer various payment solutions to customers. We gathered the most popular options for a service of product marketplace.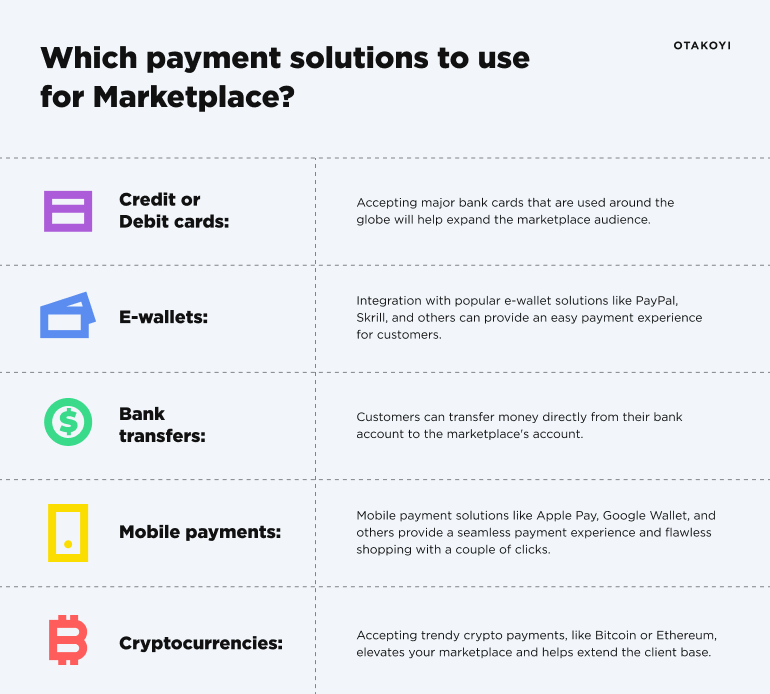 Credit or Debit cards: accepting major bank cards that are used around the globe will help expand the marketplace audience;
E-wallets: Integration with popular e-wallet solutions like PayPal , Skrill , and others can provide an easy payment experience for customers.
Bank transfers: Customers can transfer money directly from their bank account to the marketplace's account.
Mobile payments: Mobile payment solutions like Apple Pay, Google Wallet, and others provide a seamless payment experience and flawless shopping with a couple of clicks. 
However,  we recommend implementing multiple payment solutions to improve the user experience and skyrocket your conversion rates. 
Choose an advertising model
The advertising model is a powerful tool to promote products or services and boost sales. The online marketplace advertising model should include the following features: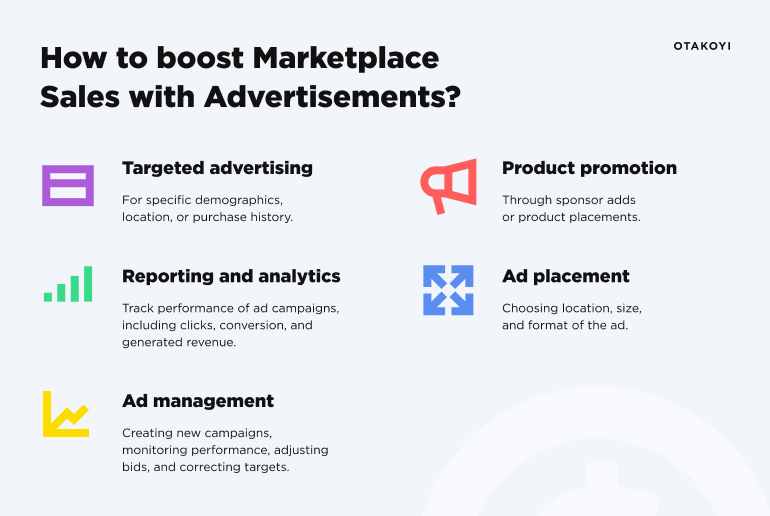 Targeted advertising (for specific demographics, location, or purchase history);
Product promotion (through sponsor adds or product placements);
Reporting and analytics (track performance of ad campaigns, including clicks, conversion, and generated revenue);
Ad management (creating new campaigns, monitoring performance, adjusting bids, and correcting targets); 
Ad placement (Choosing location, size, and format of the ad).
Improve with SEO
Search Engine Optimization (SEO) is a process to boost website visibility and ranking in search results. If users can't find your marketplace, your business won't thrive. Therefore, SEO is a mandatory feature and process to attract more organic traffic and increase sales. Here are the core SEO components for an online marketplace platform: 
Keyword research: Identifying phrases and keywords customers use to search the products on the marketplace and organically incorporating those keywords into website content and metadata. 
On-page optimization: Optimizing the marketplace website's structure and content to make it more engine-friendly. 
Backlinks: Building high-quality backlinks from relevant websites can help increase marketplace authority and visibility. 
Content management: Keep an eye on the product description, making it more unique and motivating. Ensure that content on the marketplace is informative and won't mislead your customers to avoid returns and refunding. 
Following those principles will put your marketplace website in the top spots of the search engine , improve conversion, and grow revenue. 
Ready to build a Winning Marketplace?
Contact our team and receive an individual approach plan for your future project
Contact us
How to make a marketplace website successful? Post-development advise
After successful marketplace app development or website launch, business owners still have a lot on their plates. The forever-haunting question: how to improve the marketplace and make it more successful? We created a list of post-development actions you can take to elevate user experience on your marketplace. 
Building a seller base might take a while. Your number one goal is to communicate that the marketplace platform you provide can be a huge resource for a merchant to build and grow their business. Here is how you can generate the seller base: 
Contact the merchants on the competitor's website; 
Search for niche companies that fit your marketplace profile; 
Research small businesses on social media who might be interested in joining. 
Here are some actions marketplace owners can take to make their website an attractive platform for sellers:
Offer incentives to list their products: Provide sellers with commission-based models, a simple onboarding process, and access to a large user base to encourage them to list their products on your marketplace.
Facilitate efficient communication: Provide an easy and efficient communication channel between buyers and sellers to encourage transactions and reduce the likelihood of disputes.
Monitor for fraudulent activity: Regularly monitor the marketplace for fraud or suspicious activity to protect buyers and sellers and maintain your reputation. 
Now, let's focus on how marketplace owners can improve customer service and buyer engagement. 
Provide an enjoyable and safe shopping experience: Combine attractive and simple UI design with secure payments and transparent communication with a seller to motivate buyers to join your platform.
Encourage reviews and feedback: user-generated content helps increase trust and credibility, provides valuable insights, and improves the marketplace.
Provide excellent customer support: Ensure your buyers can access fast, helpful, and reliable support to address any issues or concerns. 
Foster a strong community: Encourage interaction and collaboration between users to create a strong sense of community and increase the popularity of your platform.
Online marketplace cost rundown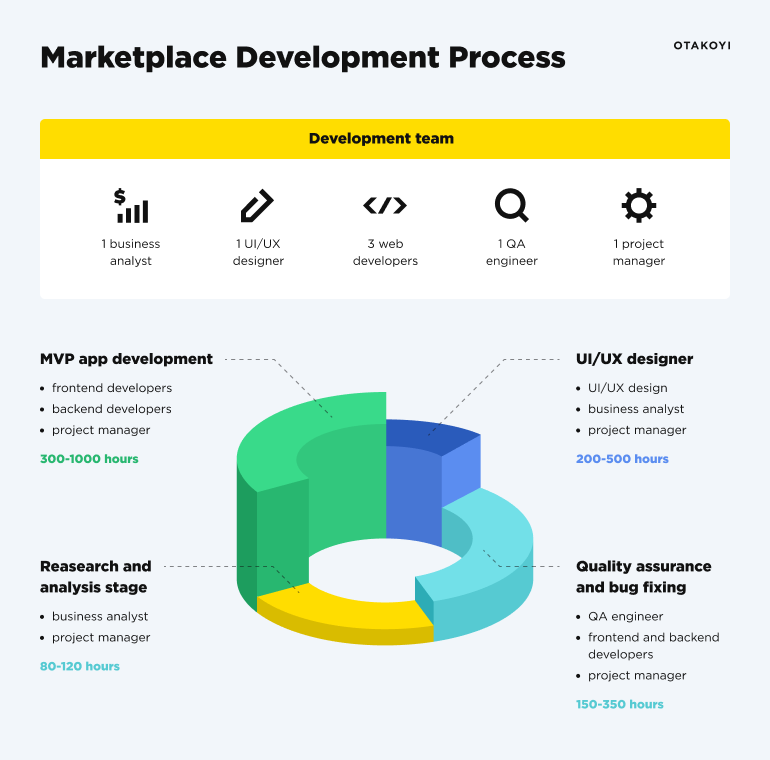 Navigating the development cost estimation is challenging as it depends on several factors like project functionality, the scope of work, deployment platforms, development company fees, geographical location, etc. However, the formula to calculate the final price is fairly easy: 
Development cost = a number of hours x hourly developers rate. 
Let's take a close look at how long development stages last  and what is the average cost estimate to build a marketplace from scratch.
Time and rates on the discovery phase
As we already established, the discovery phase is an essential stage of marketplace software development. Investing your resources like time and money in project discovery helps save much more further on, protecting you from crucial mistakes. 
On average discovery phase takes around 3-6 weeks of full-cycle development. At that stage, you're likely to cooperate with various experts and professionals , like project managers,  business analysts, software designers, software architects, and software quality engineers . Depending on the specific project, be ready to pay between $10k and $20k just for the services in the discovery phase. 
Building a marketplace website
It's impossible to estimate the time required to build an online marketplace platform. The tech stack , functionality, and project complexity varies from one concept to another and might take weeks or month.
Usually, it takes around 1,000 - 2,000 hours to build an average MVP marketplace version . When you have a clear project plan, your tech partner will coordinate the design & development cost and timeframe .
Regional software development rates
We don't want to leave you altogether in the dark. Here are the regional rates: 
In North America, a software developer charges between $150 and $180 per hour; 
Western and Northern Europe developers - $90 to $120 per hour; 
Central and Eastern Europe companies charge between $35 and $75 per hour; 
Pacific Asian and South American rates are $15 to $45 per hour. 
Outsourcing your marketplace development to a professional off-shore company is a cost-effective way to get a high-quality product and stay within a set budget. 
Building an online marketplace with OTAKOYI
Why choose online marketplace development from Otakoyi? We're not a one-trick pony. Years of profound expertise in e-commerce granted us valuable insights into the industry to deliver innovative out-of-this-world solutions. 
We offer: 
A result-driven approach to guarantee positive ROI for our partners; 
Customized solutions to build any type of marketplace, bring any idea to life and significantly decrease time to market; 
Technical proficiency in handling projects of any complexity, from small websites to full-scale  marketplace app development; 
Support at each step of the way for smooth cooperation;
Competitive software development rates.